The 2008 season finally got under way Saturday night after several postponements due to heavy rains. A full night of racing was highlighted by the Battle of the Bluegrass Open Wheel Modified series with 21 cars starting the feature paying $2000 to win.

Glasgow, KY driver Kelly warren posted the fastest qualifying time with a lap of 12.485 seconds with the starting field determined by three 8 lap heat races. Joey Kramer, the 2006 and 2007 BoB points champion started on the front row with Paul Bales of Sevierville alongside. Kurt Owens, lasts years Tazewell Speedway 4 cylinder division points champion, started third. After two early cautions, Kramer took the high side to lead followed by Owens, Bales, Kevin Copher, and Kelly Warren. On lap 13 Copher spun out on his own bringing out another caution. On the restart, Don Adams, who started ninth, raced his way into second.

After a brief caution period for a light snow, yes snow, it was Kramer still out front with smoke billowing from a leaking valve cover gasket. The race's last caution came as five cars tangled on the front stretch. From then it was Kramer's race to lose as he bested the field followed by Adams, Owens, Warren and Copher. The Hanover, Indiana driver said that he "couldn't have had a better setup" and that if he "could build a track in his backyard it would be just like Tazewell Speedway."
The Steel Head Late Model division started off with fours drivers breaking the track qualifying record set last season. Fastest qualifier Travis Fultz, with a lap of 11.841 seconds, started on the front row alongside Jason Trammel. It was Trammel setting pace early with a heavy battle for third between Derrick York, Kip Pearson, and Steve Smith. As Billy Gordon spun on lap number five bringing out the caution, York and Pearson dropped out with engine troubles. On the restart Trammel set his Hatmaker Holdings, Trammel Construction, Tobbler Heating and Air, Fast Lane Signs & Graphics sponsored Warrior Chassis with a Vic Hill Racing engine on cruise control to take the checkers with Fultz finishing second followed by Smith, Steve Carr, and Keith Chapman. In victory lane Trammel said, "The track was the smoothest it had been in several years."
A new racing division debuted at Tazewell Speedway on Saturday night. The FASTRAK sanctioned Crate Late Models use engines that are built by General Motors with drivers not allowed to make any modifications to the motor. Jason Trammel set quick time with a lap of 12.557 seconds. At the start of the feature Clinton, TN driver Mark Leach put his Stone Plus, White's Total Performance, Stealth Carburetor sponsored DWB Chassis Impala SS up front and never looked back to take his first victory at Tazewell Speedway.
In Modified Street action Jody Horton took the early lead over fastest qualifier Andrew Loving only to succumb to mechanical woes on lap number 8. During the caution Loving dropped out as well giving the lead to Anthony Morgan. After losing an engine, Morgan gave the lead over to Tony Horton who never looked back. The Sneedville, TN driver did a NASCAR inspired burnout on the front straightaway and a dance in victory lane to celebrate his first win of the season.
In only his second attempt ever on dirt, Josh Brock of Corbin, KY won his first Pure Street feature at Tazewell Speedway over a hard charging Buster Cupp and Daniel Carpenter.
In 4 cylinder action it was Chuck MacMahan staring from dead last taking his first feature win at Tazewell Speedway over Brad Pressley and Curtis Jones.

April 12, 2007 Results
Modified Street
56J Tony Horton
24 Allen Holt
4 Clyde Overholt
77 Chris Collingsworth
8 Andrew Loving
24 Charlie Rouse
21 Dustin McMurray
01 Jonathan Poore
74 Steve Wilder
2 Brian Carpenter
B8 Anthony Morgan
15 Dustin Harville
56J Jody Horton
7 Dixon Greenwood
DNS 54 Larry Burke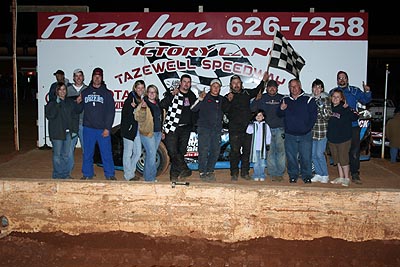 Steel Head Limited
90 Jason Trammell
T0 Travis Fultz
22 Steve Smith
77 Steve Carr
97 Keith Chapman
G7 Billy Gordon
0 Freddie Brock
33 Phillip or whomever Nichols
24 Andy Wilder
XXX Josh Chesney
11 Brian Dobbs
20 Richard Ely
7 Derek York
00 Kip Pearson
20 Jason Capps
7 Brian Smith
DNS 19 Phillip Gerding
DNS 2 James England
DNS 43 Mike Bright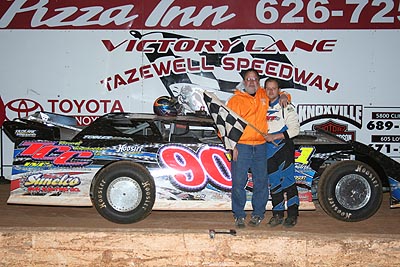 BOB Modified Open Wheels
77 Joey Kramer
66 Don Adams
14 Kurt Owens
0 Kelly Warren
12 Kevin Copher
52T Shawn Tolson
36 Billy Palmer
35 Tommy Bailey
00 Stanley Donahoo
21 Paul Bales
20M Mick Sansom
181 Aaron Ogle
257 Skylar Marlar
B1 Delane Browning
43 Ben Petry
72 JJ Patterson
7K Kevin Nesselhauf
4 Wayne James
15oz Sammy Duncan
50 Bobby Edens
DNS 25 Robert Potter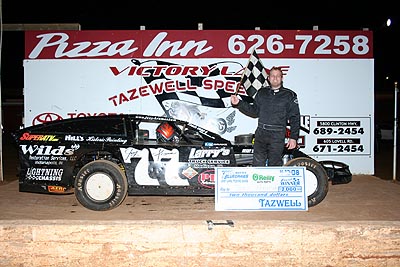 FasTrak Crate Late Models
66 Mark Leach
90J Jason Trammell
1 James England
9 Justin Duncan
M42 Josh Morrow
G7 Billy Gordon
83 David Gamble
DNS 47 Brad Hall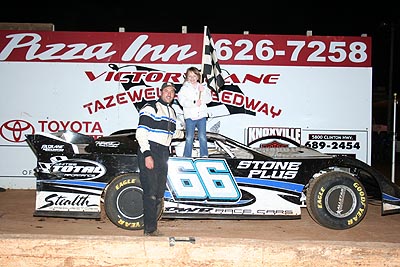 Pure Street
17 Josh Brock
28 Buster Cupp
10 Daniel Carpenter
94 Dustin Eldridge
55 Jack England
15 Jason Long
97 Bo Hall
3 Michael Boyd
2 Steve Smith
M35 Matt Tharp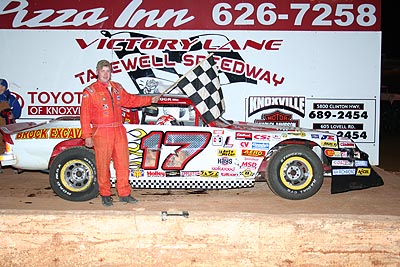 Pure Street
92H Jordan Horton
97 Aaron Guinn
12 Michael Daniels
39 Johnny Miller
12X Jerry Green
27 Gary Harville
45 Ronnie Graves
18 Jr Cody
40 Donnie Brown
05 Chris Hickman
00 Heather Poore Light On Scales
DNS 17 Tim Stevens
4 Cylinders

99 Chuck McMahan
19 Brad Pressley
4 Curtis Jones
B7 Buddy Braden
007 Hayston Collett
9 Cheyenne Kite
11 Josh Fields
10 James Parrott
DNS 70 David Cawood