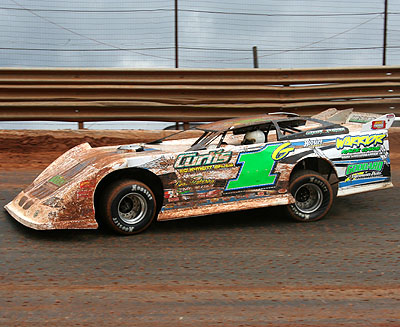 Tazewell, TN (April 20th, 2008) The saying goes, "the third time is a charm" just not this time as the seventh time proved to be a charm for the 3rd Annual Thunder Thaw 50 at Tazewell Speedway on Sunday afternoon. After six prior attempts to get the event in the books failed, Mother Nature finally smiled on Tazewell Speedway Sunday afternoon.

John Gill of Mitchell , Indiana was running only his second race at the track accurately dubbed "The Bad Fast Taz" as the pilot of the #1G Warrior House Car fielded by Sanford Goddard of Warrior Race Cars based in nearby Knoxville , TN. Following a treacherous 50 lapper on a very slick surface, Gill stated from Victory Lane "I just want to thank Sanford and Warrior Race Cars for letting me drive this car. We had a tough weekend at Charlotte (Colossal 100) and it feels real good to get this win today. It really helps build your confidence when you get a win and any time you can beat The Newport Nightmare (Jimmy Owens) here at Tazewell you've really done something."

Jimmy Owens really put on a show Sunday afternoon piloting his famous #20 Bloomquist Chassis for Reece Monuments of Tazewell to a second place finish. After knocking down the Powermaster Pole Award with a fast lap of 12:819 seconds he was then required to draw a pill from a bag that contained the numbers 0, 1, 2 and 3 to determine if and how many rows would be inverted for the two Sunoco Dash Events; a rule change that was implemented in the off-season to promote more excitement for the fans. While a few drivers voiced their displeasure with the rule, the fans appeared to really like the change and it did prove to be an exciting twist to the event as Owens drew out the number 3 which meant he would start sixth in his dash among the top six qualifiers.

Mike Weeks of Friendsville was able to take advantage of the rule. As the sixth overall qualifier he would start from the pole in the first dash which he led wire to wire over Gill, #77 Joe Armes of Petros, TN, Owens, #3 Steve Smith of Powell, TN and #1 Vic Hill of Morristown, TN. Dash number two contained the seventh through twelfth fastest qualifiers, which were also inverted based on the pill draw, enabling the #8 of David Payne of Murphy, NC to start from the pole after posting the twelfth fastest time among twenty-seven entries. Payne would claim the dash win over #86 Jeff Neubert of Knoxville, TN, #32W Shane Roberts; Bristol, TN, #10 Chad Ogle; Sevierville, TN, #201 Billy Ogle Jr.; Knoxville, TN and #4T Tommy Kerr of Maryville, TN

The two West Haven Speed Equipment B-Mains would transfer the top four from each to the Advance Auto Parts A-Main and were claimed by #17 Shannon Thornsberry of Martin, KY and #11B Stacy Boles of Claxton, TN respectively. The Series points provisionals (based on '07 finishing results) were claimed by #12T Dan Tipton of Kingston, TN and #00 Richard Smith of Science Hill, KY while the Fast Time provisionals were awarded to #7 Marty Calloway of Maynardville, TN and Rookie Contender #14 April Farmer of Livingston, TN.

When the twenty-four car field took the green flag for the fifty lap A-main John "The Modern Day Cowboy" Gill charged from the outside pole to take the early lead over Weeks with Owens getting by Armes to take third followed by Steve Smith, Vic Hill and David Payne but the first of six caution flags flew on lap #2 for a spin among the back markers. Caution #2 waved on lap five for Chad Ogle who slowed to a stop with a flat tire while Armes spun down the backstretch after tagging the wall off of turn two ending his afternoon early. Additional cautions waved on laps nine and fourteen for Shane Roberts and Richard Smith respectively.

The red flag waved on lap seventeen when Shannon Thornsberry and Brian Smith tangled off of turn four with Smith coming over the nose of Thornsberry causing Smith to flip over on his top. He was un-hurt and the car suffered only moderate damage. The #25 of Bobby Mayes of Jonesboro , TN was also collected in the incident.

Once the race was back underway, Weeks began to wage a fierce battle to get by Gill and was able to pull alongside on several occasions but was never quite able to make the pass. Meanwhile Owens was making attempts at Weeks for second and Hill was trying to get by Owens for third. This would continue throughout the event but was intensified on lap twenty-five when the 00 of Smith spun in front of the leaders in turn two and nearly took the leader out after swiping Gills left side causing heavy body damage.

The final caution waved in the latter stages of the event following contact between mid-pack runners #2X Anthony White of Clinton, TN and #6 Kerry Jones of Bristol, VA ending both cars efforts early.

Meanwhile, back up front, the battle continued to wage for the lead with Weeks still hounding Gill, Owens hounding Weeks and Hill hounding Owens until the closing circuits when Owens decided to take a chance on the rim of the track to get by Weeks on the outside and it paid off with a pass on lap forty-eight and by now he would then charge to the rear of Gill with the crowd on their feet Owens was able to pull along side Gill off of turn two and down the back shoot only to drift a little too high off of the exit of turn four and lost ground to Gill as he took the checkers. Owens settled for second with Weeks, Hill and Steve Smith rounding out the top five.

Stacy Boles, after starting fourteenth, was locked in a fierce battle with David Payne for much of the event and was able to take home a sixth place finish. Payne, Tommy Kerr, Billy Ogle Jr. and Rick Rogers rounded out the top ten.

TAZEWELL SPEEDWAY OFFICIAL STATS 4-20-08
ADVANCE AUTO PARTS THUNDER SERIES EVENT #2
3RD ANNUAL THUNDER THAW 50
ENTRIES: 27 Representing five states (TN, KY, NC, VA, IN)
TIME OF RACE: 41 Minutes - 5:17pm - 5:58pm
YELLOW FLAGS: 6
RED FLAGS: 1 (#7 Brian Smith flips on top – turn 4)
LAP LEADERS: 1 (#1G John Gill 1-50)
POWERMASTER FAST TIME: Jimmy Owens #20 (12:819)
PHOENIX CONVERSIONS HARD CHARGER: #12T Dan Tipton (21st to 12th)
SUNOCO Dash #1 – #22 Mike Weeks
SUNOCO Dash #2 - #8 David Payne
WEST HAVEN SPEED EQUIPMENT B-MAIN #1 - #17 Shannon Thornsberry
WEST HAVE SPEED EQUIPMENT B-MAIN #2 - #11B Stacy Boles
FSR - HANS AWARD: #1G John Gill
RACIN' WITH REX RACER OF THE RACE: #20 Jimmy Owens
TIGER REAR ENDS/ DWB RACE CARS ROOKIE: #86 Jeff Neubert
HOOSIER TIRE SOUTH MOVE OF THE RACE: Jimmy Owens (Passes Weeks for 2nd on lap 48 – challenges Gill for lead on lap 49)
Goddard Guttering Gas Give-A-Way Winner: Matt Taylor of Maynardville , TN
ADVANCE AUTO PARTS A- MAIN
1. John Gill #G1
2. Jimmy Owens #20
3. Mike Weeks #22
4. Vic Hill #1
5. Steve Smith #3
6. Stacy Boles #11B
7. David Payne #8
8. Tommy Kerrr #4T
9. Billy Ogle Jr. #201
10. Rick Rogers #44
11. Jeff Neubert #86
12. Dan Tipton #12T
13. Richard Smith #00
14. Chad Ogle #10
15. April Farmer #14
16. Jeff Wolfenbarger #28
17. Anthony White #2X
18. Bobby Mays #25
19. Kerry Jones #6
20. Shannon Thornsberry #17
21. Brian Smith #7
22. Shane Roberts #32W
23. Joe Armes #77
24. Marty Calloway #7

In Modified Street action it was the father and son team of last week's winner Tony Horton and Jody Horton on the front row of the 20 lap feature. Row number two was made of Tazewell Speedway veterans, Larry "Goat Man" Burke and Allen Holt. At the drop of the green flag it was Jody Horton taking the lead followed by Tony Horton, Holt, Burke and Dustin McMurray. Chris Collinsworth brought out the first caution on lap number after spinning with no change in the top five. On lap 16 Larry Burke dropped out with a lost cylinder surrendering fourth place to former Modified Street champion Anthony Morgan. As the laps were winding down, last week's winner, Tony Horton made his charge for the lead . On lap 18 just as he was making the pass for the lead, Dustin Harville brought out the last caution with a spin. From then on it was Jody "Hot Rod" Horton taking his first win of the season.

Modified Street Results
1. 56j Jody Horton
2. 56 Tony Horton
3. 24 Allen Holt
4. B8 Anthony Morgan
5. 21 Dustin McMurray
6. 74 Steve Wilder
7. 15 Dustin Harville
8. 54 Larry Burke
9. 45 Tim Mason
10. 7 Dixon Greenwood
11. OZ John Cook
12. 77 Chris Collinsworth
13. 2 Brian Carpenter
14. 4 Clyde Overholt
15. 99 David Lee Smith
16. 24 Charlie Rouse
17. 10M Bradley Llewellyn
18. 00 Rodney Brantley

Travis Fultz and Jason Trammel made up the front row of the $1000 to win Steel Head Late Model Feature with Fultz taking the early lead followed by Trammel, Clyde Stanton, Steve Smith, and Phillip Nichols. The first caution flew on lap seven as Brian Dobbs and Freddie Brock tangled. On the restart Steve Smith put the pressure on Trammel for second place when on lap 18 Trammel spun on his own in turn 4. Taking over second Smith set his sights on Fultz. On the last lap in between turns 3 and 4 Smith made his move diving under Fultz only to make contact and spin. In Victory Lane, Fultz thanked Jimmy Owens and Mike Reece for their advice and support. Fultz's Mopar late model is sponsored by Harrogate Collision, Fultz Automotive and Reece Monuments.

Steel Head Late Model Results
1. T0 Travis Fultz
2. 33 Philip Nichols
3. C11 Clyde Stanton
4. 24 Andy Wilder
5. 90J Jason Trammell
6. 7B Mike Bright
7. 22 Steve Smith
8. XXX Josh Chesney
9. 0 Freddie Brock
10. 11 Brian Dobbs
11. 07 Jason Cardwell DNS
12. 97 Keith Chapman DNS


After having a tough 2007 season, Knoxville's Brad Hall set fast time and led every lap of the West Chevrolet Crate Late Model feature helping Warrior Race Cars get their second win of the afternoon. West Chevrolet announced this week that they will award the points champion of the Crate Late Model division with a crate engine valued at over $5,000. Hall's Warrior Chassis Monte Carlo is sponsored by Gary Hall Motors.

West Chevrolet FasTrak Crate Late Model Results
1. 47 Brad Hall
2. 90 John Llewellyn
3. 90J Jason Trammel
4. 8 David Payne
5. 66 Mark Leach
6. 04 Blake Stewart
7. B00 Josh Henry
8. 9 Justin Duncan
9. 83 David Gamble
10. 2 James England



Pure Street action saw Jason Long taking the early lead from Jack England with lots of battling going on throughout the field. Steve Smith had the fastest car early in the race and made a charge to the front after starting sixth. On lap number seven he passed leader Jack England only to wreck with England on the following lap sending both cars to the tail end of the field. This gave the lead over to Jordan Horton, the younger brother of Jody Horton, who was looking for his first feature win. After a caution involving three cars on lap number ten, the younger Horton never looked back celebrating his first ever with a dance on the roof of his car and a cold water shower courtesy of big brother Jody. Steve Smith battled back to finish second.

Pure Street Results
1. 92H Jordan Horton
2. 2 Steve Smith
3. 15 Jason Long
4. 55 Jack England
5. 10 Daniel Carpenter
6. 3 Michael Boyd
7. 27 Gary Harville
8. 39 Johnny Miller
9. 24 Gary Stacy
10. 18 Jr. Cody
11. 97 Aaron Guinn
12. 12 Michael Daniels
13. M35 Matt Tharp
14. 59 Brian McDaniel
15. 94 Dustin Eldridge
16. 10 Charles Barnett
17. 17 Tim Stevens
18. 12X Jerry Green
19. 40 Donnie Brown
20. 28 Buster Cupp
21. 17 Josh Brock

Next Saturday night, April 26th, we will be back to regular racing action featuring our Steel Head Late Models, West Chevrolet Crate Late Models, Modified Street, Pure Street and 4 Cylinder divisions. Pit gates open at 4:00 p.m. and main grandstand open at 5:00.