HORTON WINS AGAIN AT TAZEWELL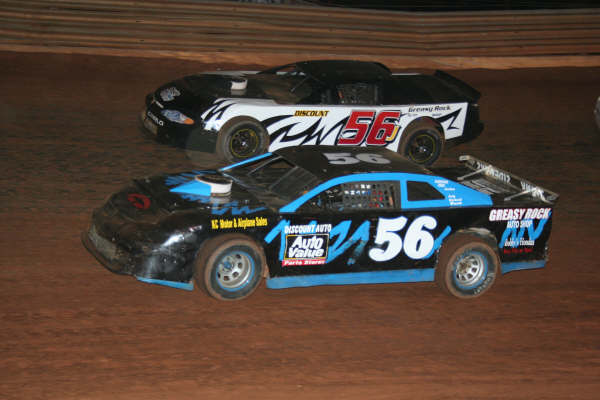 Saturday evening brought sunny skies to start of the Mother's Day Weekend and plenty of racing action at Tazewell Speedway. The fourth race of the 2008 season found two drivers picking up their third wins in a row and also attracting bounties.

Bubby Braden and Jamie James made up the front row of the 4 cylinder feature with Braden taking the early lead. Wayne Woodward brought of the first yellow for an engine fire that was quickly extinguished ending Woodward's night. James brought out the next caution as he spun on lap number five and also again on lap nine. Some fans might have thought that James might have lacked in driving ability yet he had a great excuse. Saturday night was the first time in two years that he had been behind the wheel of a race car as he was serving our country in military duty in Iraq. Midway through a tight three-way battle took place between Braden, Cheyenne Kite and Josh Fields. After a re-start on lap nine Braden stalled in turn two with Kite diving low to avoid a collision that Braden, Fields and Curtis Jones couldn't avoid. Fields and Jones were able to continue. Kite had no challenge for the rest of the race as he picked up his first feature of the year and celebrated with his own version of the burnout which has become popular this season. Kite's car is sponsored by Bandit Cycles and Mr. Plumber.

4 Cylinder Results

1. 9 Cheyenne Kite
2. 11 Josh Fields
3. 19 Brad Pressley
4. 4 Curtis Jones
5. J5 Jamie James
6. 007 Hayston Collett
7. 10 David Creech
8. B7 Bubby Braden
9. 1 Wayne Woodward
10. 28 Justin James
11. 99 Chuck McMahan DQ'd

In Modified Street action Jody Horton was looking to capture his third win in a row. After setting fast time and starting on the front row beside his father Tony, Horton set sail until tangling with the lap car of Scottie Atkins on lap number nine, ending Horton's chance for a three-peat. The night wasn't a total loss for the Horton crew as Tony Horton held on to win making the father and son duo the only Modified Street winners so far this season.

Modified Street Results

1. 56 Tony Horton
2. 31 Greg Estes
3. 8 Andrew Loving
4. 4 Clyde Overholt
5. 15 Dustin Harville
6. 17 Leonard Bray
7. 21 Dustin McMurray
8. 54 Larry Burke
9. 74 Steve Wilder
10. 01 Jonathan Poore
11. 56J Jody Horton
12. 24 Allen Holt
13. 20 Scottie Atkins
14. 77 Chris Collinsworth DNS

Steel Head Late Models had plenty of action as Steve Carr of Rogersville set fast time and lined up beside Jason Trammell on the front row. Trammell was another driving hoping to make it a three-peat. At the drop of the flag Trammell took the lead and pulled away from Carr until lap number eleven when Phillip Nichols spun in turn two. Trammel pulled away from Carr on the re-start yet Carr put up a great challenge staying within striking distance throught the feature. Trammell had to work extra hard to keep his mount steady on a slick track along with keeping Carr at bay. With the laps winding down the leaders caught up with traffic and Carr dove low a few times but was never able to get the advantage on Trammel who made it a three-peat and also picked up his 40th feature win at Tazewell Speedway. In Victory Lane Trammell admitted that he made the wrong tire selection and that he knew Carr would race him clean. He also thanked the fans for coming out and hoped they would continue their support. With the three-peat track officials put out $200 bounty for any driver that can beat Trammell next week.

Steel Head Late Model Results

1. 90J Jason Trammell
2. 77 Steve Carr
3. 00 Kip Pearson
4. T0 Travis Fultz
5. 97 Keith Chapman
6. 2 James England
7. 11 Brian Dobbs
8. 24 Andy Wilder
9. 19 Johnny Lane
10. 33 Phillip Nichols
11. G7 Billy Gordon
12. 43 Doug Lemarr

Brad Hall was another driver looking to three-peat in the West Chevrolet FASTRAK Crate Late Models. Hall set fast time and shared the front row with Jason Trammel. After several attempts to start the race double file with several cars spinning on seperate occasions, track officials made the decision to start the race single file. From then it was Hall leading flag-to-flag for the win with track officials also placing a $200 bounty on Hall for next week.

West Chevrolet FASTRAK Crate Late Model Results

1. 47 Brad Hall
2. 90J Jason Trammel
3. 11 Anthony Arnwine
4. 16 Logan Hickey
5. 63 Josh Collins
6. 2 James England
7. 9 Justin Duncan
8. G7 Billy Gordon
9. 117 Ryan Carey
10. 91 Trevor Crittendon
11. 11C Allen Champ

Before racing action started, several of the Pure Street drivers had a Meet and Greet session in the main grandstands. Fans were able to see the cars up close and get autographs from the drivers. In the feature the first two laps were exciting with the top six cars racing side by side with Travis Helton taking the early lead over Buster Cupp. The two made contact on lap number two sending Helton to the infield with front end sheet metal damage. Helton later came back on the track to finish twelvth. On lap number four Steve Smith passed Cupp for the lead hoping to pick up his second win in a row. Third running Matt Tharp brought out the caution on lap number seven after hitting the back stretch wall. Smith lead the rest of the race only to be disqualified after a protest from second place finisher Jason Long. After a subsequent inspection from track officials, Long's car was found to be illegal also giving the win to Michael Boyd.

Pure Street Results

1. 3 Michael Boyd
2. 55 Jack England
3. 92 H Jordan Horton
4. 12 Michael Daniels
5. 94 Dustin Eldridge
6. 10 Daniel Carpenter
7. 31 Matt Tharp
8. 17 Josh Brock
9. 39 Johnny Miller
10. 8 Tony Eads
11. 18 Junior Cody
12. 12H Travis Helton
13. 01 Luke Sharp
14. 97 Aaron Guinn'
15. 22 Charles Davidson
16. 28 Buster Cupp
17. 12X Jerry Green
18. 17 Tim Stevens
19. 97 Bo Hall
20. 18X Anthony Stanifer
21. 16 Will Carey
22. 38 Scott Gray
23. 40 Donnie Brown
24. 43A Robert Armes
25. 00 Heather Poore
26. 2 Steve Smith DQ
27. 15 Jason Long DQ


Next Saturday night, May 17, will be a full night of racing at Tazewell Speedway with a Meet and Greet session for the Modified Street division starting at 5:00 in the main grandstands. Fans can meet the drivers and get pictures and autographs. Also, on behalf of Gary Hall, the drivers and crews, and everyone at Tazewell Speedway we want to thank all of the fans for supporting us in tough times with the economy. We will do our best to bring you the best racing around.