FULTZ KNOCKS OFF TRAMMELL,
HALL WINS AGAIN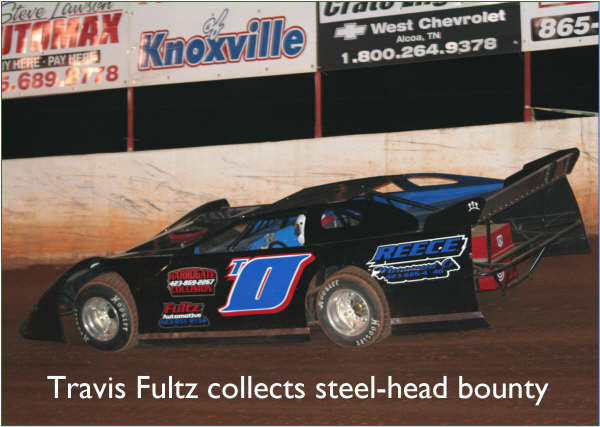 After winning two races in a row Tazewell Speedway placed a $200 bounty for any driver that could best Jason Trammell in the Steel Head Late Models and Brad Hall in the West Chevrolet FasTrak Crate Late Models.

First up in Saturday night's action was the Steel Head Late Models with Travis Fultz taking quick time in qualifying and sharing the front row of the feature with Steve Carr. Repeat winner Jason Trammell qualified third. Carr hung on last week for a season best second and took the early lead over Fultz with Kip Pearson in second. On lap two Fultz edged his way under Pearson and set his sights on the top spot. The closest Fultz could come to Carr was only a few car lengths as Carr seemed to have the fastest car in the field. Just as Carr was pulling out to a sizable lead, the caution flag fell on lap 26 and on the restart Carr's mount succumbed to driveline problems. This gave the lead over to Fultz in the Harrogate Collision, Fultz Automotive sponsored Dodge Charger for his second win of the year and also collecting the $200 bounty.

Steel Head Late Models
1. T0 Travis Fultz
2. 00 Kip Pearson
3. 2 James England
4. 90J Jason Trammell
5. 33 Phillip Nichols
6. 97 keith Chapman
7. 7B Mike Bright
8. 24 Andy Wilder
9. 77 Steve Carr
10. 28 Jamie Allen
11. 8 Mike Reece
12. XXX Josh Chesney
13. 11 Brian Dobbs

Eleven West Chevrolet FasTrak Crate Late Models entered to try and collect the $200 from Brad Hall who was the fastest qualifier with Morristown's Allen Champ second quick. At the drop of the green Champ drifted high in turn 2 and tagged the wall hard yet kept control. On the next lap he tagged the turn 2 wall again with an accordian effect collecting eight cars behind him. Only the car of Josh Henry was unable to continue. Brad Hall took the early lead with Champ, James England, Jason Trammell and John Lewellyn in tow. On lap 3 Justin Duncan spun David Gamble on the back stretch parking Gamble and sending Duncan to the rear of the field. As a determined Duncan was trying to stage a charge back into contention he tagged Ryan Carey on the front straight spinning both cars and sending tempers flaring. On lap eight Trammell started challenging Champ for second as Hall extended his lead. Greeneville's Jeff Maupin made the only other change in the top five as he passed James England for fourth on lap ten. Not even a bounty could scare Brad Hall as he led the remainder and picked up his third win in a row. The $200 bounty will still be in effect in next weeks action.

West Chevrolet FasTrak Crate Late Models
1. 47 Brad Hall
2. 11C Allen Champ
3. 90J Jason Trammell
4. 0 Jeff Maupin
5. 2 James England
6. 117 Ryan Carey
7. 90 John Lewellyn
8. 9 Justin Duncan
9. 83 David Gamble
10. 91 Randell Self
11. B00 Josh Henry

So far this season the front row of each Modified Street feature had either Tony or Jody Horton on the front row and the duo swapping wins between them. That all changed on Saturday night as Allen Holt and Charlie Rouse were the two quickest cars in qualifying followed by Greg Estes, Leonard Bray and Andrew Loving. Holt grabbed the lead on the start with Charlie Rouse holding off a hard charging Estes. On lap 2 Rouse smacked the outside of turn 2 which dropped him to seventh. Estes moved into second with Bray, Jody Horton, and Loving the top five. Estes looked to be the only car that could possibly challenge Holt for the top spot until lap three when he swung his car wide coming out of turn 4 and climbed the front stretch wall nearly overturning and ending his night. This left Holt still out front with Leonard Bray moving into second. Bray got within a few car lengths several times but didn't have enough for Holt who picked up his first win of the year in his Get Gorgeous Salon, Conner Asphalt and Paving sponsored Monte Carlo.

Modified Street
1. 24 Allen Holt
2. 17 Leonard Bray
3. 8 Andrew Loving
4. 4 Clyde Overholt
5. 56 Tony Horton
6. 77 Chris Collinsworth
7. 15 Dustin Harville
8. 7 Dixon Greenwood
9. 21 Dustin McMurray
10. 74 Steve Wilder
11. 75 Chris Long
12. 01 Jonathan Poore
13. 56J Jody Horton
14. 3 Tim Hatfield
15. 54 Larry Burke
16. 31 Greg Estes
17. 24 Charlie Rouse

The always exciting Pure Street didn't disappoint as they top six cars battled hard for the first five laps as Matt Tharp led Dustin Eldridge, Jordan Horton, Daniel Carpenter and Michael Daniels. Throughout the first twelve laps Tharp had his hands fulls holding off Eldridge and Horton when on circuit thirteen Tharp suffered a flat tire giving up the lead to Eldridge. On the next lap restart slight contact between Horton and Eldridge cut down the tire of Eldridge. Horton led the remainder of the race to pick up his second win of the year.

Pure Street
1. 92H Jordan Horton
2. 3 Michael Boyd
3. 10 Daniel Carpenter
4. 17 Josh Brock
5. 39 Johnny Miller
6. 17 Tim Stevens
7. 12 Michael Daniels
8. 12X Jerry Green
9. 15 Jason Long
10. 97H Bo Hall
11. 12H Travis Helton
12. 02 Jessie Hoover
13. 94 Dustin Eldridge
14. 16 Will Carey
15. 97 Aaron Guinn
16. M35 Matt Tharp
17. 8 Tony Eads
18. 28 Buster Cupp
19. 40 Donnie Brown
20. 00 Heather Poore
21. 16X Anthony Stanifer

4 cylinder action found Chuck McMahan starting in the last position yet moving into the second spot by the second lap. On lap four he passed last week's winner Cheyenne Kite to pick up his third win of the season.

4 Cylinders
1. 99 Chuck McMahan
2. 9 Cheyenne Kite
3. 7 Bubby Braden
4. 11 Josh Fields
5. 4 curtis Jones
6. 19 Brad Pressley
7. 007 Hayston Collett
8. 10 David Creech

This Saturday night, May 24 we welcome back the O'Reilly Battle of the Bluegrass Late Model Series for the running of the Citizens Bank 60 paying $5,000 to win. The region's top super late model drivers are expected for this exciting event. Last year's BoB points champion Victor Lee comes into the event currently leading the 2008 points over Tyrel Todd and Zach Carney. Also in action will be our West Chevrolet FasTrak Crate Late Models, Modified Street, Pure Street and 4 Cylinder divisions. For more info visit our website at www.TazewellSpeedway.net and also visit www.battleoftheblugrass.com.