HALL MAKES IT 5 IN A ROW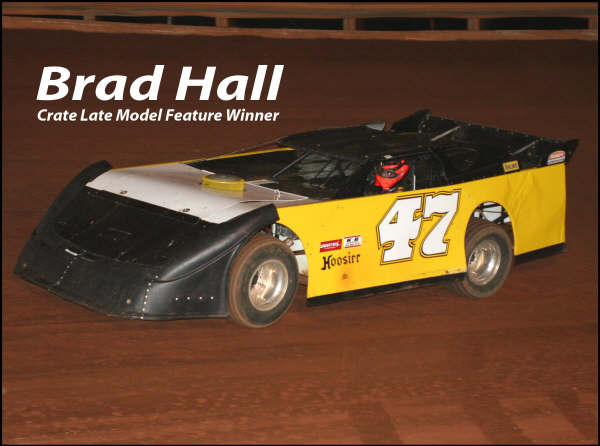 When most folks hear of a bounty, they think of an outlaw on the loose being tracked by bounty hunters looking to collect a reward for the outlaw's return. In dirt track racing a bounty is put on a driver when they start winning excessively. Such was the case Saturday night as Brad Hall was looking to win his fifth race in a row in West Chevrolet FasTrak Crate Late Model action. Three weeks ago track officials posted a $200 bounty for any driver who could best Hall. After no one collected the bounty last week the reward was increased to $400,a possible total of $1100 to win. In time trials Hall was almost 3 tenths of a second quicker than Jason Trammell, the points leader despite Hall's four wins. At the drop of the green it Trammell and Hall raced door to door for the first lap. On the ensuing laps Trammell tried using the low line to gain an advantage. Hall used his familiar high line and started pulling away from the field. Morristown's Allen Champ was comfortably in third and was hoping to end his string of bad luck at The Taz. On lap 16 Ryan Carey, who was battling handling problems, drifted up into the path of Champ in turn three. Champ, with nowhere to go, collided with Carey and suffered heavy front end damage. On the restart Hall distanced himself from the field and collected his fifth win in a row. Hall's Arlington Motors sponsored Warrior race car is actually a car that was heavily used by Rick Rogers. Hall explained that the only thing that he had done to the car was hang a new body, put on a new set of Goodyear tires and of course put a Chevrolet crate engine under the hood.

West Chevrolet FasTrak Crate Late Models Results
1. 47 Brad Hall
2. 90J Jason Trammell
3. B00 Josh Henry
4. 2 James England
5. G7 Gary Blanken
6. 117 Ryan Carey
7. 11C Allen Champ
Before racing action got underway Phillip Nichols asked Brad Hall to help him with the setup on his Steel Head Late Model. The car was formally owned by dirt late model standout John Blankenship and Hall was very familiar with the chassis, yet didn't know anything else about the car. Hall qualified the car on the pole and started on the front row of the feature alongside points leader Travis Fultz. In turn four on the first lap Josh Chesney flipped his mount but was unhurt. Behind Hall, Jason Trammel was challenging Fultz for second and eventually got by on lap four. Throughout the race newcomer Travis Hensley was finding it hard to adjust to the high banks and spun three times on separate occasions, each time doing a 360 degree spin and continuing without bringing out the yellow. On lap 15 Fultz started to challenge Trammell for second and the duo caught up to Hall who was battling lap traffic. Hall led the remainder and was ready to chalk up his second win of the night. This was not to be as track officials checked the motor of Nichols car and deemed the motor illegal. This gave the win to Jason Trammell, his third win of the season.

Steel Head Late Model Results
1. 90J Jason Trammell
1. T0 Travis Fultz
3. 77 Steve Carr
4. 00 Kip Pearson
5. 2 James England
6. G7 Gary Blanken
7. 24 Andy Wilder
8. 8 Mike Reece
9. 4 Travis Hensley
10.0 Freddie Brock
11. 97 Keith Chapman
12. 15 Mike Lewis
13. 05 Josh Chesney
DQ 33 Brad Hall
In Modified Street action longtime Tazewell Speedway veteran Allen Holt was strong all night long, putting his Get Gorgeous Salon, Conner Asphalt and Paving sponsored Monte Carlo on the front row alongside Jody Horton. At the drop of the green Holt stormed out front followed by Horton, Leonard Bray, Tony Horton and Rodney Brantley. On lap 8 Bray had his night ended with mechanical troubles and Jody Horton gave up second as he suffered a flat tire. This moved points leader Tony Horton into second. Horton had new sheet metal on his car after flipping in last week's feature. Holt continued his lead throughout the race with Horton closing the gap. On lap 12 Horton starting diving low in the turns looking for any advantage. After getting the white flag Horton was on Holt's bumper and again dove low in turn four. In the end it was Holt winning his second race of the year and in Victory Lane he commended Horton for his clean driving and great effort.

Modified Street results
1. 24 Allen Holt
2. 56 Tony Horton
3. 77 Chris Collingsworth
4. 15 Dustin Harville
5. 88 Brad Davis
6. 4 Clyde Overholt
7. 21 Dustin McMurray
8. 7 Dixon Greenwood
9. 3 Tim Hatfield
10. 56J Jody Horton
11. 74 Steve Wilder
12. 20 Scott Atkins
13. 17 Leonard Bray
14. 00 Rodney Brantley
In Pure Street action Jordan Horton qualified on the pole and lined up with Steve Smith on the front row of the feature. Earlier in the season Smith was stripped of a victory after not tearing down after a protest. Saturday he was out to prove that he could win fair and square. He jumped out to the early lead over Horton, Josh Brock, Matt Tharp and Michael Daniels. On lap 2 Horton bowed out with mechanical woes and Brock moved into second. In the final laps of the feature Brock challenged for the lead yet it was Smith's night as he collected his second win of the year.
Pure Street Results
1. 2 Steve Smith
2. 17 Josh Brock
3. 12 Michael Daniels
4. 50 Jonathan Miracle
5. 10 Daniel Carpenter
6. 97 Aaron Guinn
7. 94 Dustin Eldridge
8. 15 Bubba Long
9. M35 Matt Tharp
10. 12X Jerry Green
11. 18 Junior Cody
12. 16 Will Carey
13. 22 Charles Davidson
14. 8 Tony Eads
15. 01 Luke Sharp
16. 38 Scott Gray
17. 29 Travis Cody
18. 92H Jordan Horton
19. 55 Jack England
20. 3 Michael Boyd
21. 39 Johnny Miller
22. 17 Tim Stevens
23. 12H Travis Helton DNS
24. 97H Bo Hall DNS
25. 02 Jessie Hoover DNS

Shawn Henry of Newport was looking to repeat in the 4 cylinder feature as drew the pole position. He lead the first four laps until Cheyenne Kite, who started third, grabbed the lead bringing Josh Fields along. On lap six Henry dropped out with a flat tire. From there it was Kite collecting his second win of the year and Fields finishing second.

Four Cylinder Results
1. 9 Cheyenne Kite
2. 11 Josh Fields
3. B7 Bubby Braden
4. J5 Jamie James
5. 19 Brad Pressley
6. 10 David Creech
7. B01 Brandon Johnson
8. 20R Terry Dean
9. 007 Hayston Collett
10. B00 Shawn Henry
11. 99 Chuck McMahan
12. 28 Justin James DNS

This Saturday night the O'Reilly Battle of the Bluegrass Open Wheel Modified Series make their second appearance of the season. Joey Kramer of Hanover, Indiana has won the previous two features at Tazewell Speedway and will be one of the favorites in the $2000 to win race. Also racing will be our Steel Head Late Models, Modified Street, Pure Street and 4 Cylinder divisions. For more information visit our website at www.TazewellSpeedway.net.