HOLT, HORTON WIN TWIN FEATURES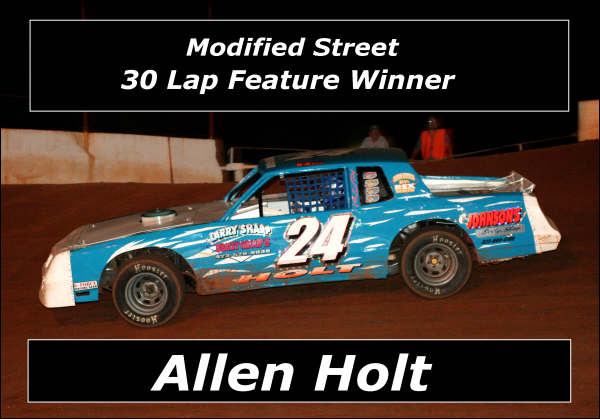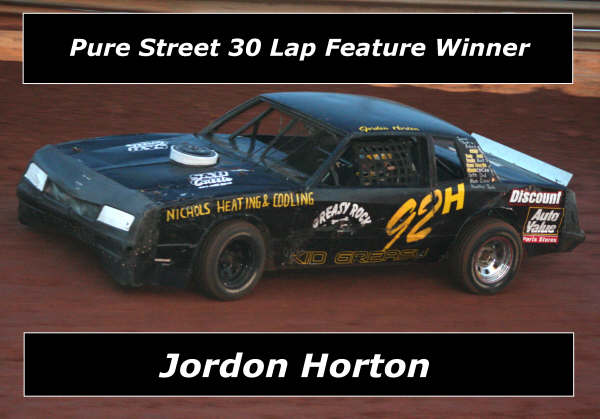 Travis Fultz set a new track record again in the Steel Head Late Models turning an 11.69, that is almost within half a second off the Super Late Models of 11.103. Diana Moore paced the Steel Head Late Models in her "Batmobile/Vett". On the first start, Jason Trammell jumped out to the lead over Fultz. Before the first lap was complete Keith Chapman and Kip Pearson got together setting up a pile of cars on the backstretch. Pearson was able to go on, while Chapman spun collecting Brian Dobbs, Josh Chestney, Mike Houston. Phillip Nichols and Andy Wilder got up against the outside wall to try and clear them but were able to go on.
On the complete restart Fultz and Trammell were able to come to the line a lot more even. With Trammell on the high side he was able to pull Fultz into turn one and off turn two. It was Trammell, Fultz, Anthony Burchett, Pearson and Gary Blanken leading the first lap. Three laps later, Phillip Nichols passed Blanken for fifth, another three lap and Blanken took fifth place back from Nichols.
The caution flew for Pearson and track officials checked Pearson car, while Blanken headed to the pit. The restart Trammell was still leading with Fultz in tow, followed by Burchett, Pearson and Nichols with Mike Reese passing Nichols in turn one to take over fifth place. Pearson ducked below Burchett in turn one as did Reece, but they were unable to pull off the pass. With nine laps to go Fultz mounted a charge and ran door to door with Trammell for six laps, at times pulling a head of Trammell a foot or two. With Nichols and Pearson spinning coming off turn four for the checkered flag. Trammell, Fultz, Burchett and Reece have the rest of the field down a lap. Jason Trammell took his 6th feature win of the year after taking last weekend off to go on vacation. Driving the Total Construction / Vic Hill Racing Engine / Tobbler Heating and Air / Fast Lane Signs and Graphics / Hatmaker Holdings / #90j.
Steel Head Late Models: Finish - Car Number - Driver
1 90 Jason Trammell
2 T0 Travis Fultz
3 5 Anthony Burchett
4 8 Mike Reece
5 00 Kip Pearson
6 33 Philip Nichols
7 24 Andy Wilder
8 G7 Gary Blanken
9 15 Mike Lewis
10 53 Brian Dobbs
11 13 Mike Houston
12 97 Keith Chapman
13 XXX Josh Chesney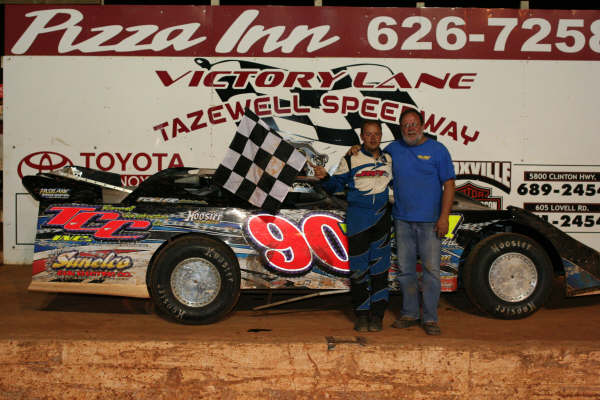 Modified Street:
Saturday night Tazewell Speedway ran a special for two of its most popular classes. With a 30 lap feature for the Modified Street and another for the Pure Street. Tazewell Speedway put a little twist in the program for the drivers and fans. Running a four car six lap dash for the fastest in qualifying, inverting the four fastest cars for the dash.
In the Modified Street dash Andrew Loving from Harlan, KY took the win over Allen Holt followed by Chris Collinsworth and Brad Davis. Holt, Collinsworth and Davis are from Tazewell, TN. Come feature time for the Modified Street, it was Tazewell's Allen Holt beating Andrew Loving into turn one. Followed by Davis on the high side and Collinsworth on the low side, behind them it was Tim Hatfield and Leonard Bray the top six. The race from third on back they were side by side. Scottie Atkins brought out the first caution on lap five when he spun in turn four. The restart saw Holt, Loving, Davis, Collinsworth and Bray the top five on the restart. With Davis getting below Loving and Bray below Collinsworth by the time they got to the third turn. Bray took over the fourth place on lap seven from Collinsworth. Greg Estes took fifth from Collinsworth on the next lap after running the low side of Collinsworth.
Out front Holt held the lead by five-car length over Loving and Davis in a battle over second place. Jody Horton from Sneedville brought out the next caution when he slowed on the front stretch. Scottie Atkins and Rodney Brantley spun in turn four after the caution flew and Collinsworth headed to the pits. It was still Holt the leader of the pack, followed by Loving, Davis, Bray and Estes on the restart. With Bray getting below Davis in a battle over third. Davis pulled away and got below Loving going into turn three, trying to take second. While Estes was doing the same to Bray trying for fourth place. Holt and Loving pretty much had first and second wrapped up, the real battle was over third between Davis, Bray and Estes. With Bray taking over third, Estes fourth and Davis dropping back to Fifth. The top five would go on to finish in that order. Allen Holt from Tazewell, TN. would go on to take the Modified Street feature driving the #24, 30 lap $800 to win Modified Street feature. Driving the Holt Heating and Air / Holt Logging / Bill Curl Racing Engine / Get Gorgeous / Monte Carlo.
Modified Street: Finish - Car Number - Driver
1 24 Allen Holt
2 8 Andrew Loving
3 17 Leonard Bray
4 31 Greg Estes
5 88 Brad Davis
6 21 Dustin MacMurray
7 56 Tony Horton
8 20 Scottie Atkins
9 00 Rodney Brantley
10 4 Clyde Overholt
11 3 Tim Hatfield
12 77 Chris Collinsworth
13 56J Jody Horton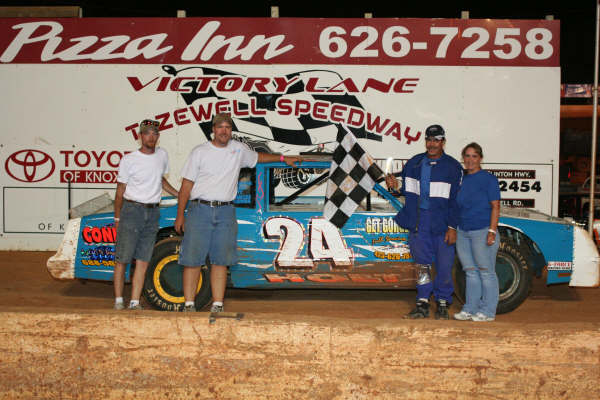 Pure Street:
In the Pure Street dash it was Jordan Horton from Sneedville, TN. taking the win over Steve Smith from Barbourville, KY. followed by Aaron Guinn and Dustin Eldridge. The four-car, six-lap dashes would setup the first two rows for the thirty lap feature.
In the Pure Street Feature it was Jordan Horton jumping out front over Steve Smith followed by Aaron Guinn. Matt Tharp, and Dustin Eldridge. Smith would battle Horton early in the race for the lead, while everyone else was trying to take over the fifth place from Eldridge. Heather Poore would bring out the first caution when see slowed on the front stretch. It was still Horton, Smith, Guinn, Tharp in fourth, and Eldridge in fifth out front on the restart. While back in the pack behind them Jason Long, Buster Cupp, Jerry Green and Josh Brock ran fender-to-fender and bumper-to-bumper. With Brock and Cupp playing a touch and go coming off turn four.
It would be Guinn breaking a wheel in turn two that would bring out the next caution and the tire flying into the upper pits. Tharp with no place to go would get into the left rear of Guinn when the wheel broke off Guinn's car, and Eldridge getting into Tharp. On the restart it would be Horton, Smith, Tharp, Eldridge and Clyde Overholt moving into the fifth place. Behind them Michael Daniels, Brock, Jason Long and Green had their own race going on for sixth place. The yellow flag would fly two laps later for debris in turns one and two left over from the previous caution. The restart would see Horton still out front, Eldridge moving into second, Overholt in third, Brock in fourth and Daniels in fifth place. Brock would make a charge on the low side down the front stretch into turns one and two passing Overholt and Eldridge taking over the second place and set sail after the leader Horton. Tim Stevens would have a rear end cover come loose and fly with the left corner still attached for several laps, before getting into the rear of Cupp and spinning in turn four. It was Horton out front still holding off the charge of Brock, Overholt, Eldridge and Daniels on the restart. Daniels would move below Eldridge in turn two to pass Eldridge, Green would follow Daniels in turn four too pass Eldridge as well. Long pull along side of Eldridge to take over sixth, with Cupp in eighth place. Brock put on another charge for the leader Horton in the closing laps, with both working lap traffic. Jordan Horton went on to take the win driving the Greasy Rock Auto Parts / Phillip Heating and Cooling / Discount Auto Value / #92h. Jordan celebrated a birthday on Friday 6-20-08, thanked his Mom for helping him put the heads back on the car Friday. Then offered his Mom the car to drive in the Power Puff in the next race.
Pure Street: Finish - Car Number - Driver
1 92h Jordan Horton
2 12 Michael Daniels
3 15 Jason Long
4 28 Buster Cupp
5 94 Dustin Eldridge
6 12H Travis Helton
7 22 Charles Davidson
8 27 Gary Harville
9 39 Johnny Miller
10 8 Tony Eads
11 16 Will Carey
12 18 Junior Cody
13 01 Luke Sharp
14 12X Jerry Green
15 17X Tim Stevens
16 2 Steve Smith
17 M35 Matt Tharp
18 97 Aaron Guinn
19 3 Jesse Hoover
20 3 Michael Boyd
21 95 Bobby Moore
22 00 Jonathan Poore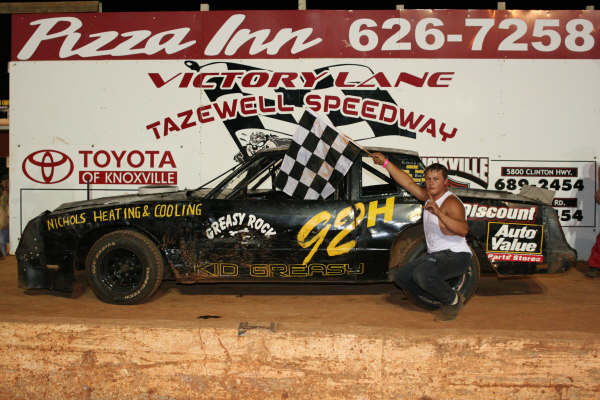 Four-Cylinder:
Chuck McMahan jumped out front over Shawn Henry, Cheyenne Kite, Allen Holloway and Josh Fields in fifth. The race went caution free with slicing and dicing of the cars. Till Curtis Jones spun coming off turn two, and hit the fresh dirt pile near the infield cross over area. With only the one caution in the feature, Chuck McMahon went on to take his 6th win of the season. Driving the Southern Stars Speed Shop / Mr. Plummer / #99. Thanking his crew and family members in victory lane.
4 Cylinders: Finish - Car Number - Driver
1 99 Chuck McMahon
2 B00 Shawn Henry
3 K9 Cheyenne Kite
4 A27 Allen Holloway
5 5K Rick King
6 11 Josh Fields
7 7 Bubby Braden
8 4 Curtis Jones
9 19 Brad Pressley
10 007 Hayston Collett
11 28 Justin James
12 B01 Brandon Johnson
Powder Puff:
Young Ladies starting the Power Puff were Heather Poore, Diana Moore, Angie Cupp, Rebecca Green, Chelsea Davis, Terrie Carrie
Julie Estes and Carolyn Davidson. Diana Moore took the lead on the start with Poore in tow. With two laps in the book Poore took the low side and passed Moore going into turn one. Going down the backstretch Moore would have no more to do with Poore, Moore passed Poore on the low side going into turn three. Moore's right rear fender caught Poore's left front fender and Poore heading to the pits. Moore passed another car on the high side on the backstretch on the next lap. With the two of them getting together, Moore's drivers door and the right front fender of the other car. Moore got by another car on the front stretch, but Rebecca Green was catching up with Moore. Moore and Green split the red Dodge Pickup truck at the flag stand, Green down low and Moore on the high side and the pickup between them three wide.
Green came out of turn two the leader and Moore now chasing Green. Both ladies turned up the wick as Green went high in turn three to pass Angie Cupp. Moore went high as to pull off a slide job and slip under Cupp, but instead hit the inside guard rail, cutting down a tire and went up the track. Not knowing it Moore stayed in the gas coming down the front stretch and the car headed right into the front stretch wall with the right front, like something may have broke, then turned around and hit the inside wall with the same right front fender. Where some "Big Ole Boy" about 6 ft. 6 in., 275 lbs. stood just inside the inside pit wall. Let's just say Race Director, Rick Brooks didn't know how fast he could move. Moore got out of the car on her own, with the help of her husband and track crew. Moore didn't appear hurt; she may be a little sore on Sunday. When Brooks was last seen, someone said something about a clean pair of pants. Rebecca Green went on to take the feature win driving the Bo and Red Hall owned #97 Pure Street car. Green thanked the Hall's for the use of their car. She was to drive her brother Jerry Green's car in the Powder Puff, but Jerry had a little trouble with his in his feature. Rebecca Green receives a big trophy and a kiss on the cheek from her dad as well as a hug from brother Jerry.