MADDEN NABS SOUTHERN NATIONALS TITLE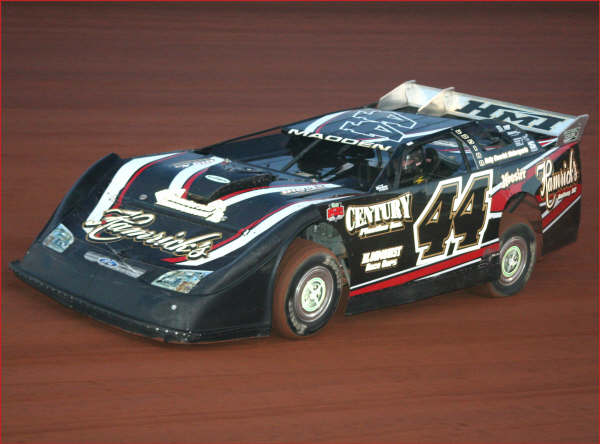 Leading all 53 laps at Tazewell Speedway, Chris Madden of Gray Court, SC, wrapped up his second consecutive O'Reilly Southern Nationals Series championship. Madden's series-leading fifth victory boosted him to the title worth $5,353 over Dennis Franklin, a three-race winner on the series, who was fifth at Tazewell.
Madden started outside the front row at the high-banked Tazewell and got the jump on polesitter Ronnie Lee Hollingsworth of Northport, AL. Madden was never headed throughout the race, as he crossed the finish line ahead of Tommy Kerr of Maryville, TN, the previous night's series winner in Bulls Gap, TN. Vic Hill of Greeneville, TN was third followed by Billy Ogle Jr. of Knoxville, TN. Franklin started seventh and finished fifth, but fell short of gaining enough positions to beat Madden for the series crown. Hollingsworth ended up 14th.
O'Reilly Southern Nationals Results
1. Chris Madden
2. Tommy Kerr
3. Vic Hill
4. Billy Ogle, Jr.
5. Dennis Franklin
6. Tony Knowles
7. Brandon Kinzer
8. Jimmy Owens
9. Shon Flanary
10. Michael Smith
11. Chad Ogle
12. Danny Yoder
13. Brian Smith
14. Ronnie Lee Hollingsworth
15. Brian Booze
16. Ethan Hunter
17. Jeff Wolfenbarger
18. Rick Rogers
19. Daniel Baggerly
20. Bryan Hendrix
21. David Payne
22. Chris Combs
23. Steve Smith
24. Terry Wolfenbarger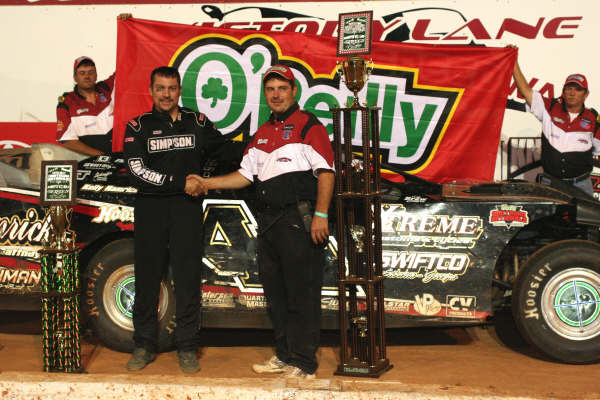 The Modified Street Featured started with fast qualifier Brad Davis lining up beside Allen Holt on the front row. At the drop of the green the front 2 rows raced side by side until Davis took the lead followed by Holt, Andrew Loving, Chris Collinsworth and Leonard Bray. The only caution of the race came on lap 17 as Tim Hatfield would roll his car in turn number two. Hatfield escaped with only a couple of bruises.Davis would lead the rest of the way to claim his third win of the season. Davis's Camaro is sponsored by Petty's Wrecker Service and Laurel Marina and Yacht Club with a Bill Curl racing Engine under the hood.

Modified Street Results
1 88 Brad Davis
2 24 Allen Holt
3 77 Chris Collinsworth
4 17 Leonard Bray
5 8 Andrew Loving
6 56 Tony Horton
7 00 Rodney Brantley
8 74 Steve Wilder
9 15 Dustin Harville
10 21 Dustin MacMurray
11 8 Kenny Cloud
12 3 Tim Hatfield
13 69 Nick Barnard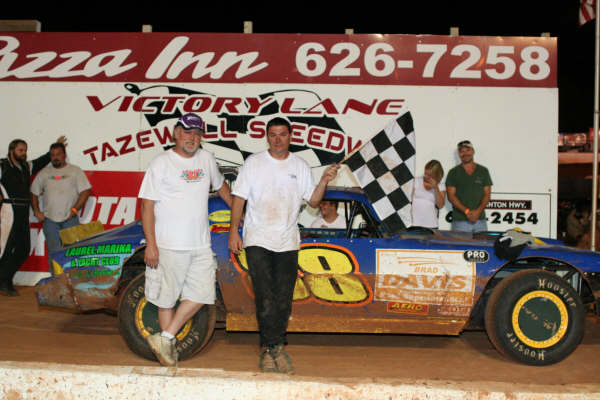 Jason Trammell qualified fastest of thirteen Steel Head Late Models and shared the front row with Steve Carr in the feature. Trammell charged out front with Carr, Anthony Burchett, Scott Gardner,and Travis Fultz giving chase. Justin Duncan brought out the caution of lap sixteen after spinning and on lap eighteen Rick Houston would slow the action as he spun in turn four. On the restart Carr started closing the gap between himself and Trammell until he dropped out on lap twenty three with motor problems. Trammell held on for win number seven on the season in his Trammell Construction Company, Fast Lane Signs & Graphics, SUNELCO sponsored Rayburn Race car with a Vic Hill Racing Engine.

Steel Head Late Model Results
1 90 Jason Trammell
2 5 Anthony Burchett
3 16 Scott Gardner
4 T0 Travis Fultz
5 11 Troy Eads
6 97 Keith Chapman
7 8 Mike Reece
8 24 Andy Wilder
9 XXX Josh Chesney
10 04J Rick Houston
11 77 Steve Carr
12 9 Justin Duncan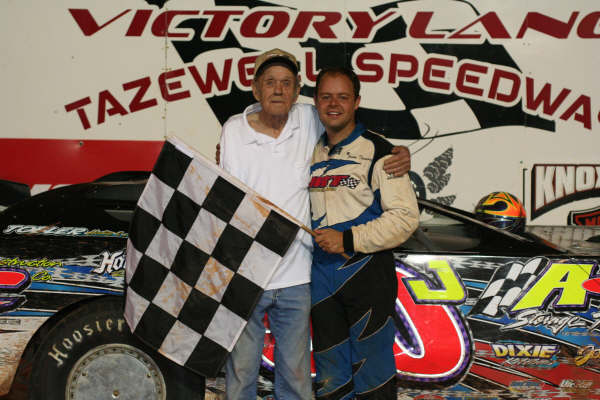 Chuck McMahan continued his dominance of the 4 Cylinder division as he garnered his eighth win of the season. McMahan would start on the front row and quickly distanced himself from the field. After starting eleventh, Kurt Owens worked his way into second by lap three. Five circuits later Owens collided with the lap car of Terry Dean which caused an oil leak in Owens motor. As Owens' car was limping off the track a fire erupted under the hood yet was quickly put out and Owens was unharmed.

4 Cylinder Results
1 99 Chuck McMahon
2 11 Josh Fields
3 7 Bubby Braden
4 116 Travis Waters
5 T15 Trey Travis
6 19 Brad Pressley
7 10 David Creech
8 007 Hayston Collett
9 28 Justin James
10 7Up Kurt Owens
11 20R Terry Dean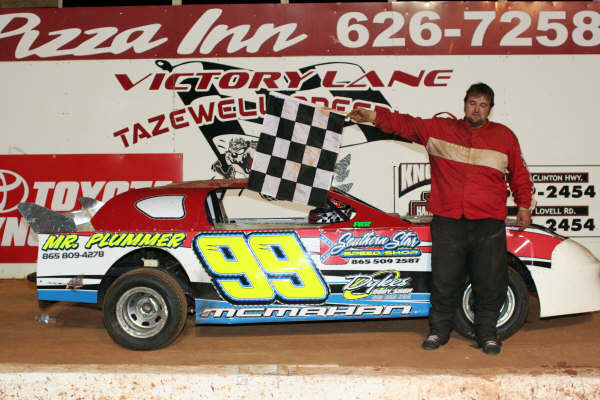 The always exciting Pure Street feature would yield the first career win for one young driver. Aaron Guinn and Dustin Eldridge led the field to the green and the top five ran nose-to-tail for the several laps. Will Careywould slow the field on lap eight as he spun in turn two. The next lap Josh Brock would lose a tire in the same turn ending his night. As it looked that Guinn would be the car to beat his mount slowed on the front stretch on lap ten. Eldridge would inherit the lead with Jack England, Michael Daniels, Jesse Hoover and Jerry Green rounding out the top five. England's night would end on lap fourteen as he wrecked coming out of turn four. Hoover challenged Eldridge many times for the lead yet it was Eldridge picking up his first career win. After the race Hoover's engine was protested and after refusing to tear down the motor he was disqualified. Dustin Eldridge was doused in Victory Lane with water and celebrated with several of his Pure Street competitors. Eldridge's Chevrolet Monte Carlo is sponsored by Linda's Beauty Shop and Parker Performance.
Pure Street Results
1 94 Dustin Eldridge
2 12X Jerry Green
3 12 Michael Daniels
4 M35 Matt Tharp
5 92h jordan horton
6 12H Travis Helton
7 97 Clyde Overholt
8 22 Charles Davidson
9 27 Gary Harville
10 00 Heather Poore
11 55 Jack England
12 97 Aaron Guinn
13 17 Josh Brock
14 16 Will Carey
15 13 Steven Harmon
16 10 Charles Barnette