TRAMMELL AND DAVIS WIN AGAIN AT "THE TAZ"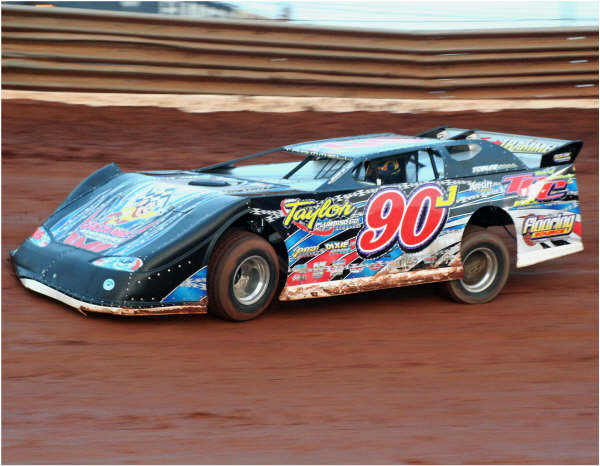 The always exciting Modified Street feature lined up with pole-sitter Allen Holt and Brad Davis on the front row. With the track being tacky it appeared that Holt would have the car to beat. At the drop of the green he jumped out to an early lead leaving Davis, Greg Estes, Chris Collinsworth, and Leonard Bray to fight for the top five. On lap number three, just as it looked that Holt would easily cruise to another win, he slowed coming out of turn two with smoked trailing from his car. Davis would take over the lead followed by Estes and Collinsworth. After starting seventh, Andrew Loving made his way up to third only to spin on his own on lap seven. On the restart, Leonard Bray slammed the outside wall in turn four ending his top five run. Davis held on to pick up his fourth win of the season.

Modified Street Results
1.88 Brad Davis
2.31 Greg Estes
3.77 Chris Collinsworth
4.8 Andrew Loving
5.21 Dustin MacMurray
6.00 Rodney Brantley
7.74 Steve Wilder
8.33 Johnny Simpson
9.17 Leonard Bray
10.8 Kenny Cloud
11.24 Allen Holt
12.56 Tony Horton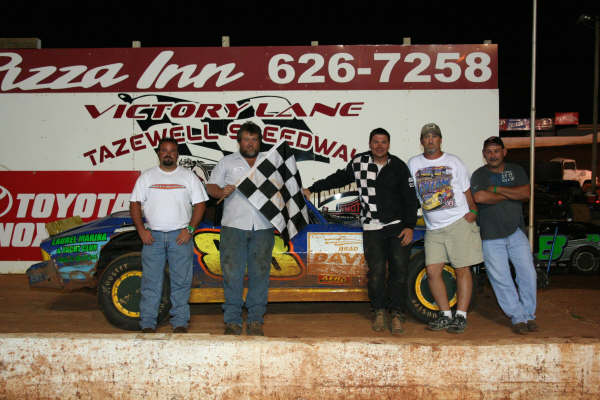 Jason Trammell of Lake City nabbed quick time in Steel Head Late Models and shared the front row with Travis Fultz. Driving the car he calls "Ol Bessy", Trammell was looking to pick up his eighth win of the season and the thirty-fifth win overall in his trusty mount. Trammell and Fultz would race side by side for the first lap with Trammell edging ahead. Only two cautions would slow the field down yet nothing could slow Trammell as he bested the field for win number eight in his A-1 Storage Trailer, Tobler Heating and Air, Vic Hill Racing Engine powered Rayburn race car.

Steel Head Late Model Results
1.90 Jason Trammell
2.T0 Travis Fultz
3.00 Kip Pearson
4.11 Troy Eads
5.8 Mike Reece
6.04J Rick Houston
7.XXX Josh Chesney
8.13 Mike Houston
9.33 Phillip Nichols
10.7B Mike Bright
11.97 Keith Chapman
12.0 Freddie Brock
13.15 Mike Lewis
14.5 Anthony Burchett
15.24 Andy Wilder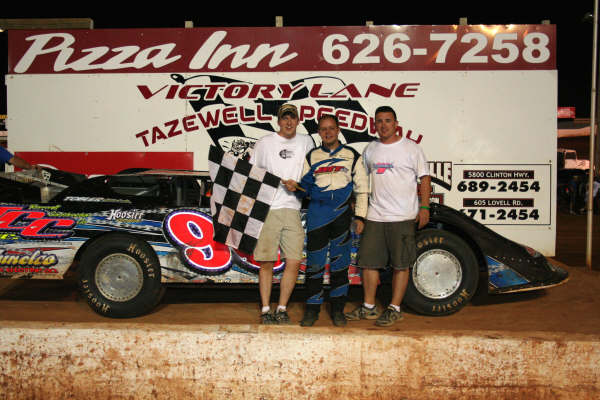 Brad Hall continued his dominance of the West Chevrolet FASTRAK Crate Late Models with his eleventh win in 2008.

West Chevrolet FASTRAK Crate Late Models Results
1.47 Brad Hall
2.90 Jason Trammell
3.75 Ricky Moore
4.11 Anthony Arnwine
5.70 Brent Hensley
6.G7 Billy Gordon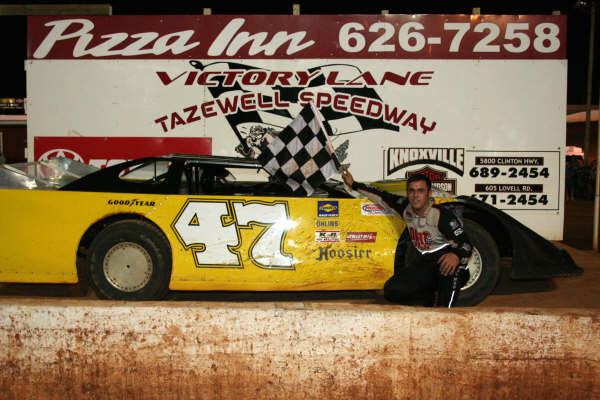 In 4 Cylinder action Chuck McMahan started on the pole and waged a three-way battle for the top spot with Cheyenne Kite and Kurt Owens. As McMahan pulled ahead with visions of another checkered flag in his eyes he would spin on his own on lap number five, sending him to the end of the field.. This left Kite and Owens to fight for the lead with Owens taking over the point. McMahan fought his way back up through the field and worked his way into second only to spin again on lap nine. Owens would hold on for his first win of the season.

4 Cylinder Results
1.7Up Kurt Owens
2.K9 Cheyenne Kite
3.A27 Allen Holloway
4.99 Chuck McMahan
5.19 Brad Pressley
6.7 Bubby Braden
7.10 David Creech
8.t15 Travis Trey
9.007 Hayston Collett
10.28 Justin james
11.11 Josh Fields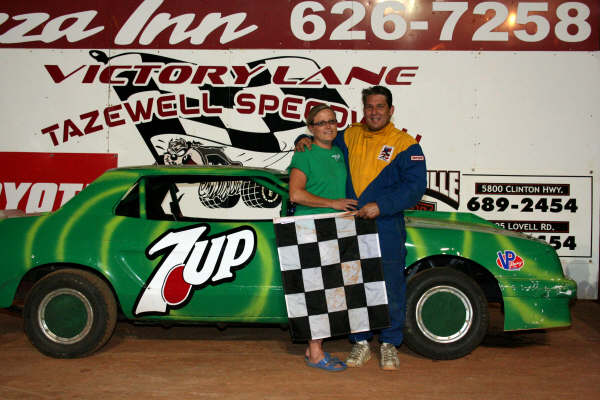 Arguably the most fan pleasing class at Tazewell Speedway, the Pure Street division didn't
disappoint as there was side-by-side, fender bending action throughout the feature. Jordan Horton lead the first third of the race with Michael Daniels, Matt Tharp, Dustin Eldridge, and Jerry Green giving chase. After starting thirteenth, Josh Brock fought his way to the front, trading paint along the way. Brock would lead the rest of the race yet his celebration was cut short as he was protested by another driver and disqualified after a motor inspection. Jordan Horton would be credited for the win.

Pure Street Results
1.92H Jordan Horton
2.12 Michael Daniels
3.2 Steve Smith
4.15 Jason Long
5.97 Aaron Guinn
6.97 Clyde Overholt
7.16 Will Carey
8.22 Charlie Davidson
9.18 Junior Cody
10.10 Charles Barnett
11.12H Travis Helton
12.38 Scott Gray
13.55 Jack England
14.27 Gary Harville
15.94 Dustin Eldrige
16.13 Steve Harmon
17.00 Heather Poore
18.M35 Matt Tharp
19.3 Michael Boyd
20.01 Luke Sharp
21.12X Jerry Green
22.3 Jessie Hoover
23.11 Kevin Smith
24.8 Tony Eads
25.17 Josh Brock DQ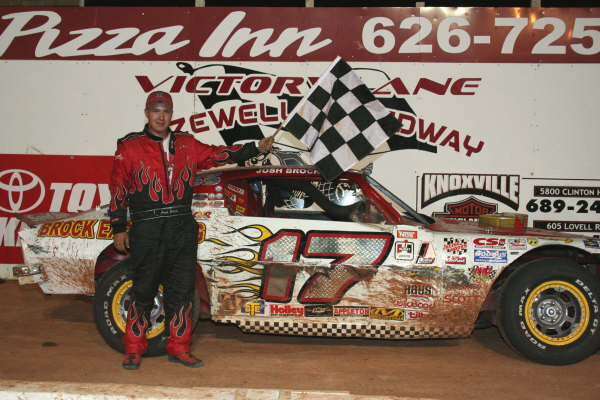 This Saturday night August 9th, Super Late Models will be back at Tazewell Speedway along with Steel
Head Late Models, Modified Street, Pure Street and 4 Cylinders. For more info visit www.Tazewell
Speedway.net or call 423.626.2222.