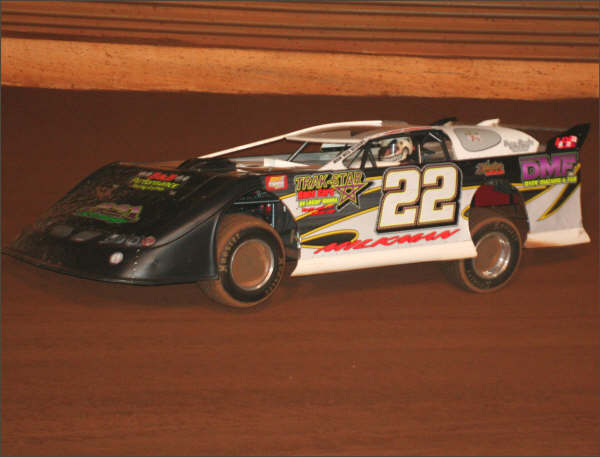 The old saying goes that some wait to save the best for last. That was certainly true as some of the best racing of the year was waged at Tazewell Speedway along with one veteran finally notching a win at The Taz on the last racing night of the 2008 season.

Mike Weeks of Friendsville is no stranger to the dirt ovals in east Tennessee and the region. The 32 year old driver won earned two Super Late Model championships in 1998 & 2004 at the now defunct Atomic Speedway and has been a consistent front runner on the Advance Auto Parts Thunder Series. With all those accomplishments Weeks was still looking for that first victory at The Taz after several top five finishes over the years.

The feat would not be easy as fourteen Super Late Models were on hand to race for $2000 with most commenting that the racing surface was the best it had been in years. Michael Smith of Rogersville posted the quickest qualifying time with a blistering lap of 11.224 seconds followed by Weeks with a 11.23 seconds and Anthony White turning a 11.25 second lap.

Smith and Weeks lead the field to the green and after three attempts at a clean start Weeks would gain the advantage followed by Smith, Bryan Hendrix, White and Marty Calloway. Weeks used the bottom groove to extend the lead over Smith to almost a straightaway in the early going. By lap 15 Weeks had caught up to lap traffic allowing Smith and company to catch up. Fighting through the lap cars White would take over third from Hendrix and four circuits later passed Smith for second. White, who was looking to shake his recent bad luck at Tazewell Speedway, used the high side to his advantage and stormed pass Weeks for the lead on lap twenty-five as the duo battled lap traffic once again. The field would slow on lap twenty-eight as Hendrix brought out the caution for a flat tire. This gave the front runners a chance to cool their tires and catch their breath after all the furious racing. As the field took the green on the restart and stormed into turn one White's car bobbled and got loose allowing Weeks to dive low and take back the lead. From there Weeks pulled out to a ten car length advantage to pick up his first Tazewell Speedway win in his Harmon Lawn Care, 321 Storage, Matlock Wraps sponsored B&B Performance Engine powered TrackStar Grand Prix. Rounding out the top five were White, Smith, Jeff Wolfenbarger, who started fourteenth and Bryan Hendrix.

Super Late Models
1. 22 Mike Weeks
2. 2 Anthony White
3. 4 Michael Smith
4. 28 Jeff Wolfenbarger
5. 5 Bryan Hendrix
6. 7 Marty Calloway
7. 14 Terry Wolfenbarger
8. T0 Travis Fultz
9. 05 Gary Blanken
10. 11 Anthony Arnwine
11. 32 Kenny Ford
12. 19 Steve Rouse
13. 25 Rex Ritchie
14. C8 Frank Merritt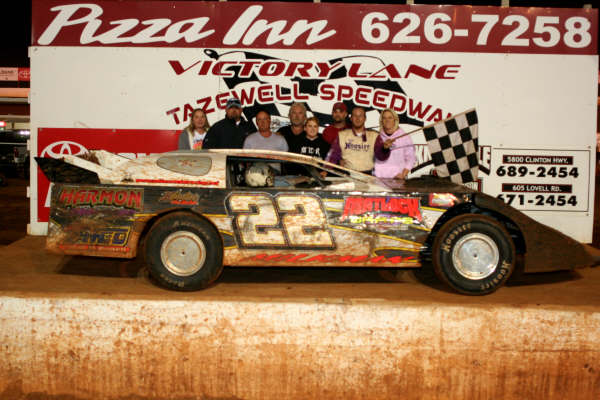 In the Modified Street feature Greg Estes earned the pole with Brad Davis sharing the front row. The duo kept the crowd on their feet as they raced side by side for the first two circuits and battled throughout the feature. Davis slipped out front with Estes on his back bumper for most of the race. In the closing laps Chris Collinsworth would slip pass Estes for second yet it was Davis's leading flag-to-flag for his seventh win of the season.
Modified Street
1. 88 Brad Davis
2. 77 Chris Collinsworth
3. 31 Greg Estes
4. 6m R.J. Mayes
5. 21 Dustin McMurray
6. 15 Dustin Harville
7. 8 Kenny Cloud
8. 00 Luke Sharp
9. 20 Scottie Atkins
10. 92 Shannon Emery
11. 54 Bobby Reed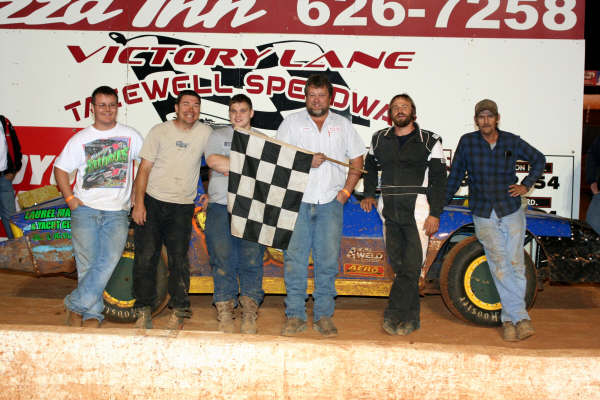 Tim Ladd of Clinton turned the quickest time in 4 Cylinders and lead every lap in taking his second win in a row.

4 Cylinders
1. 39 Tim Ladd
2. 99 Chuck McMahan
3. J5 Jamie James
4. 13 Scottie Frazier
5. B7 Bubbu Braden
6. A27 Allen Holloway
7. 28 Justin James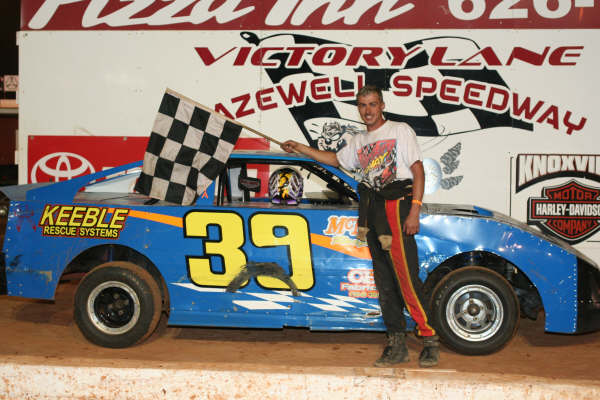 In the always exciting Pure Street feature pole-sitter Justin Smith looked as if he would easily get his first win of the season until he lost the driveshaft on lap fourteen. Michael Daniels, who finished second in Pure Street points, drove his best race of the year putting his Dodge Ram pickup in Victory Lane and earning his first win of the year.

Pure Street
1. 12 Michael Daniels
2. 3 Michael Boyd
3. 28 Buster Cupp
4. 94 Dustin Eldridge
5. 29 Tater Mayes
6. 16 Will Carey
7. 3 Jessie Hoover
8. 10 Charles Barnette
9. 18 Junior Cody
10. 58 Justin Smith
11. 55 Charlie England
12. 71 Edward Adams
13. 92t Travis Crosby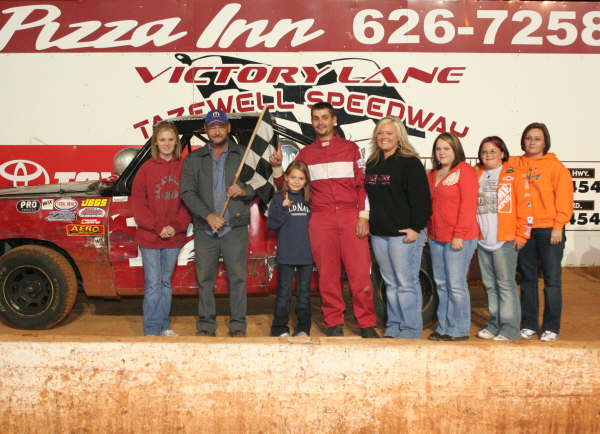 On behalf of all the staff at Tazewell Speedway we want to extend a huge THANK YOU to the drivers, crews and especially our awesome fans for making the 2008 season such a success despite the economy and high gas prices. We truly have the best fans and there is no way we could have done it without you.! We also want to thank all of our fine sponsors: American Race Tires South, Harry Lane Chrysler/Kia, Citizens Bank, Toyota Knoxville, Catdaddy's Market, Lance Cunningham Ford, Vic Hill Racing Engines, Steve Lawson's Automax, Honda/Yamaha of Knoxville, The Performance Parts Center at West Chevrolet, Tindells Building Supply, Mazda of Knoxville, Porter Builders, Buchannan Shaved Ice, West Haven Speed Equipment, Coca Cola, Old Town Market and Pharmacy, Pizza Inn of New Tazewell, Knoxville Harley Davidson, and Danny England Motors. We look forward to seeing everyone back in April for the 2009 season!