March 30, 2013 - After a long cold and wet winter Tazewell Speedway opened the 2013 season on Saturday night.
On showcase were the Tazewell Late Models as they battled for $2000 to win in the Cabin Fever 35. Fifteen cars were on hand with Jason Trammell of Knoxville setting quick time with a lap of 11.834 seconds. After the draw for the invert, Heath Hindman of Signal Mountain, Tn, making his first attempt to tame the high banks of The Taz, started on the pole position alongside Mack McCarter of Gatlinburg. At the drop of the green Hindman had a slight advantage going into turn one but McCarter would shoot to the low lane to challenge. As the duo battled down the back stretch they made contact with McCarter lifting off the gas and sustaining right side body damage but able to continue. Trammell slipped into second and began pressing Hindman for the lead on lap three and would take the lead away on the next circuit. Just as Trammell was settling in he sustained problems on lap six and went pitside with a flat right rear tire yet was able to rejoin the field at the tail. Hindman would inherit the lead but just before the restart pulled into the lower pits with steering problems This put McCarter into the lead followed by Steve Carr, Mark Leach, Josh Henry and Ross White.

By lap eight McCarter gained a 6 car length advantage over Carr who had his hands full holding off Leach as they battled lap traffic. Toward the middle of the race Carr and Leach closed the gap on McCarter with Leach taking over second on lap nineteen and challenging McCarter for the top spot. As the duo weaved their way through lap traffic Leach made several attempts on the bottom to groove to take the lead but McCarter sealed the deal in the McCarter Lumber, Hidden Valley Cattle Farm, Liquor and Wine of The Smokies, Hoosier Tire by Pup, Matlock Decals sponsored CVR Race Car powered by a Pro Built Race Engine.

Tazewell Late Models Cabin Fever 35 Results
1. 51 Mack McCarter
2. 66 Mark Leach
3. 90J Jason Trammell
4. 45 B.J. Morris
5. 22 Matthew Holt
6. 21 Brian Howerton
7. 15 Wade Howerton
8. 77 Steve Carr
9. 0 Ross White
10. B00 Josh Henry
11. 17 Brian Shockley
12. 24 Andy Wilder
13. 9 Heath Hindman
DNS Jody Horton
DNS Steve Smith
The Sportsman Division made its debut on Saturday night. This late model class was created for up and coming drivers as well as budget minded teams. Former Tazewell Speedway Four Cylinder Champion Keith Chapman of Powell, having not won a late model race since May of 2005, was fastest qualifier with a lap of 12.727 seconds. Jordan Horton of Sneedville, moving up from the Pure Street ranks, qualified second and was awarded the pole position after the invert draw. At the drop of the green Chapman took the lead followed by Horton, Josh Chesney, Justin Beeler and Aaron Guinn. By lap four up and comer Justin Beeler of Knoxville moved passed Chesney for the third spot. Chapman settled into cruise control holding off Horton until lap seven when engine troubles forced Horton to retire. This would move Beeler, who was looking to complete his first race at Tazewell Speedway, up into second. From there on it was Chapman in the Trammell Construction, Fastlane Signs and Graphics, Hatmaker Holdings, A-1 Storage Trailers, Sun Electric Company sponsored Studebaker SS Warrior Race Car taking the win. Track owner Gary Hall was very pleased with the turn out in the first week of the Sportsman Division and is looking forward to seeing the class's numbers grow as the season progresses.

Sportsman Results
1. 97 Keith Chapman
2. 25 Justin Beeler
3. 8 Aaron Guinn
4. 5 Josh Chesney
5. X Mike Kelley
6. 46 Derrick Shockley
7. 7 Jordan Horton
8. 007 Matt Shockley
DNS D00 Josh Driskill
DNS 2C Ryan Coppock
In Modified Street Gary Blanken of Morristown would take fast time with a lap of 13.276 seconds. After the invert draw Michael Boyd took the pole position and shared the front row with 2011 Modified Street Champion Warren McMahan. Before the first lap could be completed the caution was thrown as Mitchell Burke slowed with engine woes. During the caution Blanken ducked to the pits with a flat right rear tire. As the field bunched up to restart Boyd's car would not re-fire. After a couple of courtesy laps Boyd was pushed to the lower pit. This would move second year driver Dakotah Knuckles up to the front row beside McMahan. Finally underway McMahan moved into the lead followed by Knuckles and Tony Horton. By lap six McMahan pulled out to a half track advantage over Knuckles who was busy fighting off Horton. On lap eight Brad Davis made contact with Horton while battling for the third spot. Horton would retire for the night and Davis pitted with a flat right front tire. On the restart Blanken, who had worked his way from the rear, moved into third and set his sights on Knuckles. By lap ten McMahan had once again pulled away from Knuckles who had put some distance between himself and Blanken. On lap eleven Blanken slowed on the back stretch with another flat right rear tire. Robbie Buchanan would take over the third spot on the restart. As the laps wound down Knuckles had narrowed the gap between him and race leader McMahan and had a solid second place wrapped up when back luck struck as his motor went up in smoke on the last lap. In Victory Lane McMahan, who in his 30 years of racing always had a red race car, celebrated with his new black #33 car sponsored by Dandridge Service Station and Garage, Derrick Whitson Attorney at Law, Jabo's Pharmacy and Oscar's Golf and Country Club.

Modified Street Results
1. 33 Warren McMahan
2. P21 Robbie Buchanan
3. 88 Brad Davis
4. 5 Gary Blanken
5. 56 Tony Horton
6. 21 Dakotah Knuckles
7. 4 Clyde Overholt
8. 52 Michael Boyd
9. 54 Mitchell Burke
DNS 36 Jerry Rainey
In Pure Street action Barbourville, Kentucky's Steve Smith in the Shane's Body Shop, Gordon Construction sponsored Camaro, held off a hard charging J.J. Green to take the win. Green was tattooed to the bumper of Smith for most of the race yet raced him clean and congratulated Smith in Victory Lane.

Pure Street results
1. 2 Steve Smith
2. 12 J. J. Green
3. 15 Jason Long
4. 26 Jonathan Miracle
5. 5 Jason Saylor
6. C5 Daniel Carpenter
7. 25 Eric Webber
8. 28 Justin James
9. 11 Tim Stevens
DNS 66 Daniel Reese
Hayston Collett of Coldiron, KY would draw the pole position alongside 2010 Tazewell Speedway Champion Joey Allen of Cosby, TN in the Four Cylinder Feature. On lap three Collett and Allen raced door to door with Allen able to slip by. He would hold on to take the victory in the Allen's Railroad Contracting, Norton's Body Shop, New Vision Graphics sponsored Ford Fusion.

Four Cylinder Results
1. A00 Joey Allen
2. 007 Hayston Collett
3. 14 Chad Manning
4. B7 Bubby Braden
5. 38 James Collett Jr.
6. 44 Jeromy Collins
7. 72 Rufus Collett
8. 13 John Collett
9. 19 Travis Dawson
Last season Shane Lockhart of Luttrell, TN garnered the Classic Car Points Championship as well as Rookie of the Year without winning a single race. That would change as Lockhart checked out on the field for his first ever victory at Tazewell Speedway in the Red Eye Racing Ford.

Classic Cars Results
1. 1 Shane Lockhart
2. 3 Jason Beeler
3. 7 John Stevens
4. 13J Joel Wolfenbarger
5. 44 Daris Braden
6. 20 Charlie Tharp
7. 18 Eli Keck
DNS 8 Josh Chesney
This Saturday night April 6, we welcome back the Southern All Star Dirt Racing Series for their first visit to the high banks of The Taz since 2006. This will be the first of three visits the longest running dirt late series in the nation will make in the 2013 season. The region's best dirt late models drivers will compete for $5,000 to win in the Charles Trammell Memorial 50 lap feature. More details will be released this week.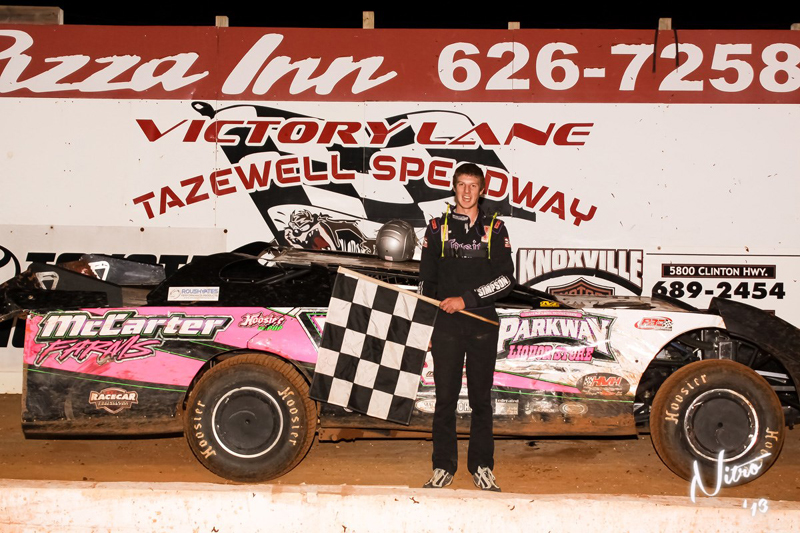 .