Greg Estes of Jonesville, VA scored his first Late Model feature win of the season in front of a great crowd on Saturday night. In time trials championship points leader Dakotah Knuckles of Ewing, VA turned  a blistering lap of 11.396 seconds, flirting with the track record of 11.315 seconds owned by Knoxville's Jason Trammell who was second in qualifying. Clyde Overholt of Tazewell recorded the third fastest dtime with Estes qualifying fourth.
Choosing to start on the outside Knuckles would bring the field to the green flag with Trammell on the inside. As the flag went in the air the field came alive and stormed into turn one. Exiting turn two Knuckles car would get loose and almost spin if front of the field. While working hard to get it back under control on the back stretch Knuckles car slid up the track in turn three making contact with Estes. The contact would send Knuckles into the outside wall and into the air flipping once and landing back upright. Knuckles would walk away under his own power.
Taking over the lead Trammell set sail in his new Rocket XR-1 chassis with Estes, Overholt, Thorn Hill's Matthew Holt and Clinton's Lynn leach giving chase. Pulling away from the field in the early laps it appeared that Trammell was on his way to his fifth win of the year at the track. His quest would end on lap thirteen as his car slowed with fuel pressure problems.
Estes would inherit the lead with Overholt and Holt staying close. Leading the rest of the way Estes scored his first win of the season in the Estes Bros. Construction, Boone's BP, South-West Insurance, Powell Valley National Bank, Marcum Oil, Fast Lane Signs & Graphics sponsored Longhorn Race Car powered by a Vic Hill Race Engine.
Late Models
1. 31 Greg Estes
2. 4 Clyde Overholt
3. 22 Matthew Holt
4. 22 Lynn Leach
5. 18 Michael Rutherford
6. 17 Brian Shockley
7. 90J Jason Trammell
8. 54 Mitchell Burke
9. B7 Bubby Braden
10. 21K Dakotah Knuckles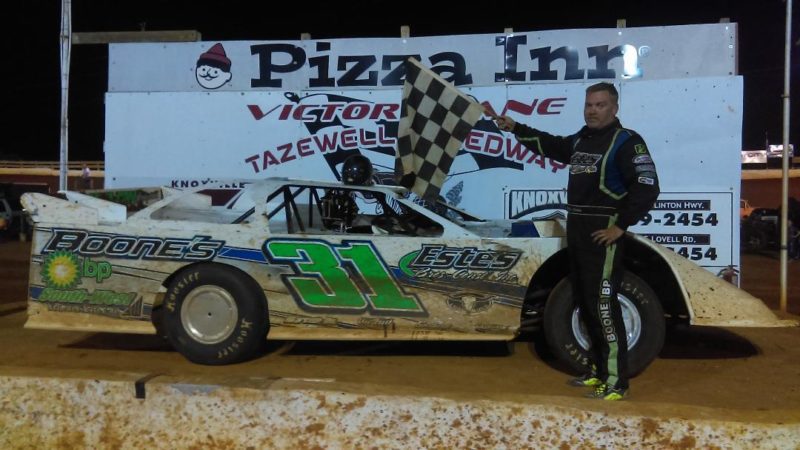 In Sportsman action Travis Fultz of Harrogate continued his domination by winning his eighth win of the year piloting the Petty's Wrecker Service, Bailey's Auto Body, Tim Fletcher Heating & Cooling sponsored Rocket Race Car with power from a DJ's Performance Race Engine. Fultz would earn fast time honors in qualifying with Cody Smith of Barbourville, KY qualifying second.
Taking the early lead Fultz had his hands full with Russellville's Aaron Guinn challenging for the lead. Jonanthan Miracle of Tazewell would bring out the caution on lap five as his car lost a right front wheel. On the restart Guinn turned up the pressure on Fultz for the top spot, looking inside many times for a way to take away the lead. The caution would fly again on lap eleven for Tazewell's Joe Bray, in his first Sportsman start, who tagged the outside wall in turn two. Fultz would fend off Guinn of the win and extend his points lead.
Sportsman
1. T0 Travis Fultz
2. 97 Aaron Guinn
3. 11 Cody Smith
4. 10 James Parrot
5. 22 Jason Sizemore
6. 33 Phillip Nichols
7. 28J Justin James
8. 73 Ray Jarnigan
9. 24 Andy Wilder
10. 00 Chris Raines
11. 17 Logan Seal
12. 7X Mark Sexton
13. 21 Brian Howerton
14. 28 Randy Davis
15. 15 Donovan Long
16. 05 Gary Bkanken
17. 8W Paul Whitley
18. 76 Joe Bray
19. 50 Jonathan Miracle
DNS 3 Corey Holt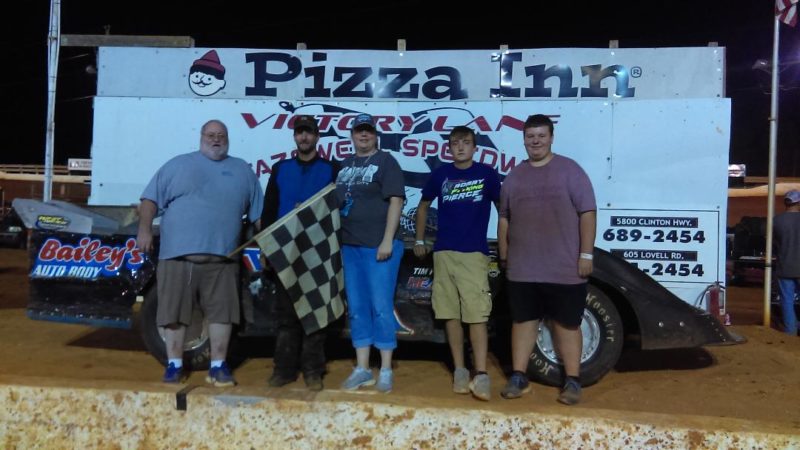 Former Modified Street Champion Robbie Buchanan of Tazewell took over the lead in the Super Stock feature on the last lap to notch his third win of the season. Kurt Owens of Newport was earned the pole for the feature with Buchanan starting alongside him on the front row. Taking the lead from the beginning Owens was trailed closely by Buchanan.
Just as Owens was coming put of turn four to take the checkered flag his right rear tire would blow sending him into the front stretch wall. Buchanan would slip by to take the win in the Petty's Wrecker Service, Robbie's Auto Sales, Tim Fletcher Heating & Cooling, 1st Class Recovery, Hopson Racing & Fabrication Monte Carlo powered by a DJ's Performance Race Engine.
Super Stock
1. P21 Robbie Buchanan
2. 14 Kurt Owens
3. 83 Cody Thompson
4. 24 Jeff Ferguson
5. C4 Logan Cobb
6. 56 Tony Horton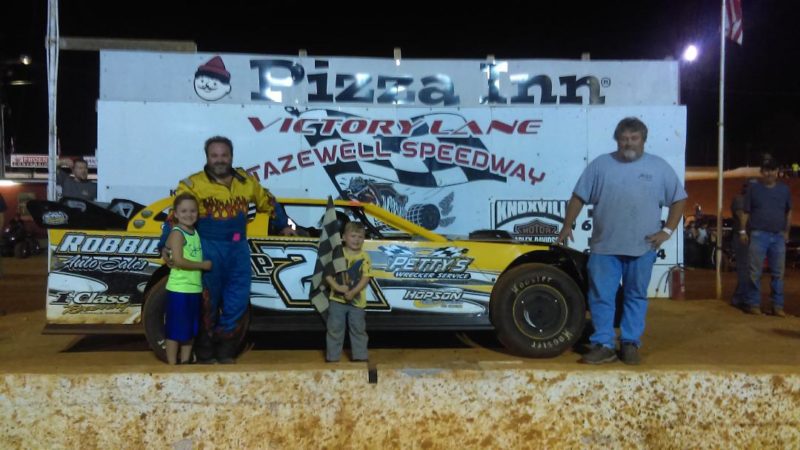 Chuck McMahan of Dandridge led every lap of the 4 Cylinder feature for his third win of the season in the Koontz Plumbing & Mechanical, Lowe's Auto Parts, Jim Ford Automotive, Original Mr. Freezo Ford Mustang. Shane Bullock of Caryville, in his first visit of the season, worked his way to finish second after starting in the fifth spot.
4 Cylinder
1. 99 Chuck McMahan
2. 2B Shane Bullock
3. 00 Joey Allen
4. 72 Walter Walsh
5. 72 Rufus Collett
6. 38 James Collett
7. 5 Terry Boshears
8. 7 Alex Holbert
9. 21 Tyler Haynes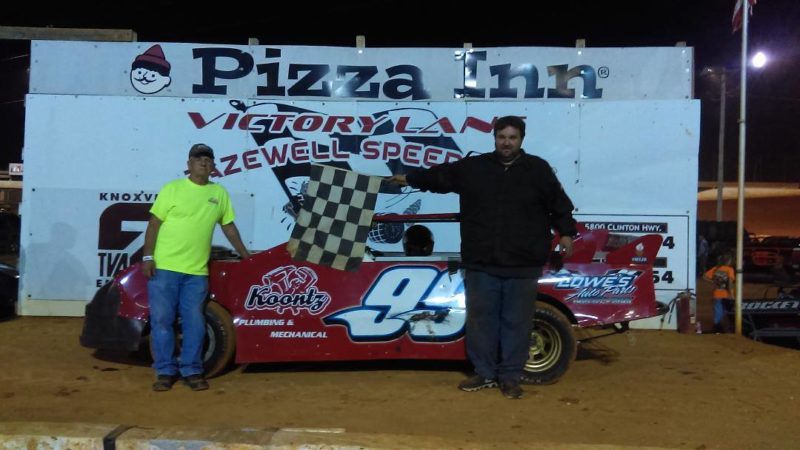 In Classic Car action second-generation driver Josh Chesney of Maynardville earned fast time  honors and lead every lap of the feature for his second win of the season in the Wallace Auto Sales, M&E Boat Services, Cabbage Auto Parts and Polygraph News sponsored sedan. Current points leader John Stevens' quest for his twelvth win of the season ended on the first lap as he made contact with Jason Saylor on the front stretch on the first lap. The crash ripped out the rear axle on Stevens' car, ending his night.
Classic Car
1. 1 Josh Chesney
2. 2 Bradley Hutchinson
3. 16 Will Carey
4. 7 John Stevens
5. 55 Jason Saylor
DNS 5 Hayston Collett