Lucas Oil Late Model Dirt Series
Toyota of Knoxville 50
Event Information
Sunday, June 3, 2012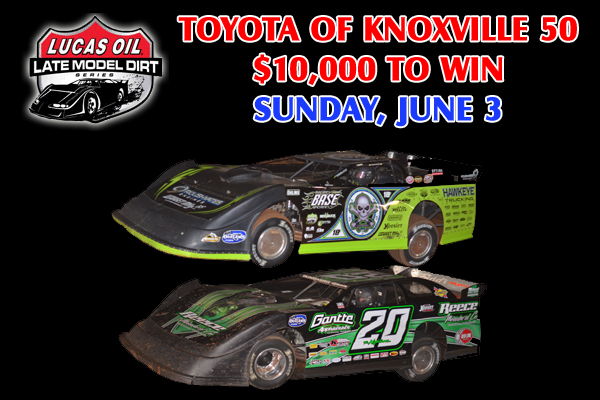 The Lucas Oil Late Model Dirt Series makes their annual appearance to Tazewell Speedway on Sunday, June 3. The Toyota of Knoxville 50 is one of a few events that has been on the series' schedule since the first season in 2005. The race was originally scheduled for Friday, June 1 but was rained out.
This year's edition will see some of the country's hottest drivers at Tazewell Speedway as they battle for the $10,000 winner's prize as well as for the top spot in series points. Defending series champion Jimmy Owens of Newport, Tennessee currently leads the series point standings. Owens has a 200-point lead over Indiana's Don O'Neal. Owens won the most recent series race at Batesville, Arkansas. O'Neal has won three of the last five series races. After getting off to a slow start, Scott Bloomquist of Mooresburg, Tennessee has rallied with two series wins to move into third place in the series standings. Steve Francis and Earl Pearson Jr. round out the top 5 in series points.
Jonathan Davenport, Tyler Reddick, defending race winner Jared Landers, Dennis Erb Jr., and John Blankenship round out the top 10 in Lucas Oil Late Model Dirt Series points.
Other drivers expected for the Toyota of Knoxville 50 are Austin Hubbard, Eric Wells, Ray Cook, Chris Madden, Vic Hill, Billy Ogle Jr., Steve Smith, and other top local and regional drivers.
Also racing on Sunday, June 3 will be the Tazewell (limited) late models for $1,200 to win. There is no entry fee. Modified streets and classic cars will also be racing. Rules for the Tazewell Late Model race will be as follows:
Tazewell motor rules 2250 BASE WEIGHT

411 motor rules 2400 BASE WEIGHT

ADD 50 LBS FOR ROLLER

ADD 25 LBS FOR TITANIUM VALVES

NO BIG BORE SHORT STROKE

OPEN TIRES

RACECEIVERS MANDATORY

Tickets for the Toyota of Knoxville 50 are $26 for adults, children 9 and under are free. Pit passes are $38, kids 12 and under are $20. Pit gates open at 2:00 and grandstand gates open at 4:00. Hot laps are slated to begin around 7:45.

The Tazewell Motor Lodge is the official host hotel for Tazewell Speedway. Click here for their web site or call 423-626-7229 to make a reservation.
Tazewell Speedway is located just two miles northwest of Tazewell, Tennessee. Going north on US 25-E, turn right and then left onto Bacchus Rd, and then 1.8 miles north, then .8 miles west and the race track is located on the left. For additional information, visit www.TazewellSpeedway.net or call 423-626-2222. For more series information on the Lucas Oil Late Model Dirt Series, you can visit www.lucasdirt.com or call the series office at 951-532-2503.


| | |
| --- | --- |
| Adult grandstand | $26 |
| Children 9 and under grandstand | FREE |
| Pit passes (adult) | $38 |
| Pit passes (kids 12 and under) | $20 |