The C.J. Rayburn promoted NASRA series returned to the TAZ Sunday night for the second time of the 2010 season. The feature race was a 44-lap event created in remembrance of Buddy Rogers, a lifelong racer and supporter of Tazewell Speedway. This night also featured the 2010 Tazewell Speedway Hall of Fame inductions which included; Louis Epperson, Melvin Corum and Bud Sweet.
After the track surface was ran in the super late models took to the track for qualifying. The fastest time of the night belonged to Rick Rogers at 11.066 seconds. Next to qualify was the modified street class. Gary Blanken came out first and with a fast time of 13.341 seconds took the pole. The classics took to the high banks next with Logan Dukes earning pole honors with a 14.177 second lap. The NASRA late model heats were next.

Super Late Model Heats
Heat 1: Billy Ogle Jr. 201
Heat 2: Vic Hill 1
Heat 3: Mike Marlar 157
Heat 4: Rodney Kiker 25

After the heats it was time for the induction ceremony followed quickly by fireworks and the modified street feature. Gary Blanken led them to the green with Robbie Buchanon beside him. Early on it was Blanken, Buchanon and Warren McMahan at the front until lap 4. Buchanon spun and moved to the rear of the field moving McMahan into second and Rick Welch into third. After the restart Blanken pulled away until a lap 16 caution closed the field up behind him. Blanken needed a good start to keep the lead and got just what he needed to go on and win.

Modified Street Results:
1 5 Gary Blanken
2 33 Warren McMahan
3 1 Rick Welch
4 56H Jordan Horton
5 4 Clyde Overholt
6 56 Tony Horton
7 54 Larry Burke
8 17 Leonard Bray
9 P21 Robbie Buchanan
10 11 Raymond Shepard
11 20 Scottie Atkins
12 66 Punk Henson
13 36 Bubba Long
14 9 Darrell Saylor
15 77 Chris Collinsworth
16 9 David Smith Tow Only

The four-cylinders were next to race and the front row was made up of Bubby Braden and Joey Allen. Allen led the first 10 laps until the Rocky McNabb made contact with the wall trying to keep up with the leader. Second place now belonged to Chuck McMahan with Kurt Owens in third. On the restart it was McMahan who was next to have trouble trying to pass Allen. He spun in turn two giving Kurt Owen his chance at the leader. A lap 13 caution slowed his attack as the field once again needed a restart. Allen went on to win his 8th race of the season.

Four Cylinder Results
1 A00 Joey Allen
2 7Up Kurt Owens
3 6 Dewayne Clayvo
4 99 Chuck McMahan
5 A27 Allen Holloway
6 97 Steve Lee
7 B7 Bubby Braden
8 2 Mark Wallace
9 2A Austin Fincher
10 O1 Rocky McNabb

The NASRA Super Late Model, Buddy Rogers Memorial 44 feature was next. The front row consisted of Vic Hill and Mike Marlar. On the start 13 cars didn't make it through turn two. Nine cars had some damage with Chad Ogle having the most damage. There was a complete restart. This time they got 1 lap complete before an incident saw Rodney Kiker go hard into the outside wall. Billy Ogle Jr. now was looking directly at the top two. Marlar took the green with Hill in tow. A lap 4 caution for debris in turn one bunched the field up again. Ogle Jr. had tried to move under Hill for second but had failed. Marlar and Hill preferred the same groove and began to pull away from Ogle Jr. until a lap 14 caution bunched the field up again. The top two were the same but Anthony White had raced into the third spot. On lap 16 Mike Weeks passed for third. Lap 19 saw the yellow again and another restart. Marlar ripped into turn one with Hill just behind. On lap 30 Hill got look but Marlar was able to pull away. On lap 39 Hill had one last chance but Marlar was too strong. The Wayne Bowen Racing Supply, Estes Automotive Racing Engines, Rayburn race car of Mile Marlar took the win in the Buddy Rogers Memorial 44. The hard charger award went to Jeff Wolfenbarger.

NASRA Buddy Rogers Memorial 44 Results:
1. 157 Mike Marlar
2. 1 Vic Hill
3. 22 Mike Weeks
4. 2X Anthony White
5. 90J Jason Trammell
6. 28 Jeff Wolfenbarger
7. 47 Chris Combs
8. 44 Rick Rogers
9. 11 Tommy Bailey
10. 16 Daniel Baggerly
11. 525 Aaron Ridley
12. 01 Arnie Fields
13. 13W David Webb
14. 7 Marty Calloway
15. 30 Rohn Moon
16. 33 Phillip Nichols
17. B00 Josh Henry
18. 201 Billy Ogle JR
19. 257 Skylar Marlar
20. 3 Steve Smith
21. 0 Jeff Maupin
22. 25 Rodney Kiker
23. 10 Chad Ogle


Next were the Classics and they were led to the green by Logan Dukes and Phillip Shockley. The first lap of this feature was unkind as well as Robert Estes and Bobby Bohanan got together as they entered turn two. After a restart it was Dukes to the front with Robbie Sands getting second from Shockley. Dukes opened his lead up but a lap 18 caution gave the field a shot at Dukes. The 88 of Scottie Atkins created another caution by intentionally hitting Robert Estes's car in turn one turning it directly into the outside wall. The race resumed without either car. Logan took home the win over Robbie Sands and Phillip Shockley.

Classic Car Results:
1 6 Logan Dukes
2 17 Robbie Sands
3 34 Phillip Shockley
4 8 Joe Keck
5 7 Bart Baxter
6 31 Robert Estes
7 88 Scottie Atkins
8 12 Phil Blackford
9 1 Bobby Bohanan
10 2 Ron Rudder

Last on the track were the pure street cars. They were led to green by Kevin Smith and Dustin Eldridge. The first couple laps were caution filled due to spins but the race would get going with Steve Smith joining Kevin at the point. On lap 3 a crash between Justin James Chevrolet and Mike Daniel's Dodge truck left Daniels in the infield and on fire. The demolition derby continued through lap five as another caution flag had to be thrown. On lap 15 Steve Smith tried to get under Kevin and lost traction zig-zaging down the front stretch. Miracle moved into second and Jason Long moved into third. Kevin Smith went on to victory over Jonathan Miracle. Steve Smith rallied back to third.
Pure Street Results:
1 58 Kevin Smith
2 41 Johnathan Miracle
3 2 Steve Smith
4 15 Jason Long
5 10 Tony Spoon
6 28 Buster Cupp
7 77 John Stevens
8 O1 Luke Sharp
9 5 Jason Saylor
10 27 Dustin Eldrige
11 12 Michael Daniels
12 28 Justin James
13 17 Tim Stevens DNS

The racing program ended slightly after 12:00AM and featured some great side-by-side action. On September 18th, Tazewell Speedway will conclude its regular season of racing with a full racing program that will include one more visit from the Hobby Stocks. Also, it will be points pay off night and the drivers must be present. Tazewell Speedway is still holding a food drive on the 18th and more information can be found on www.tazewellspeedway.net.
Thanks to the fans for their continued support of the Tazewell Speedway.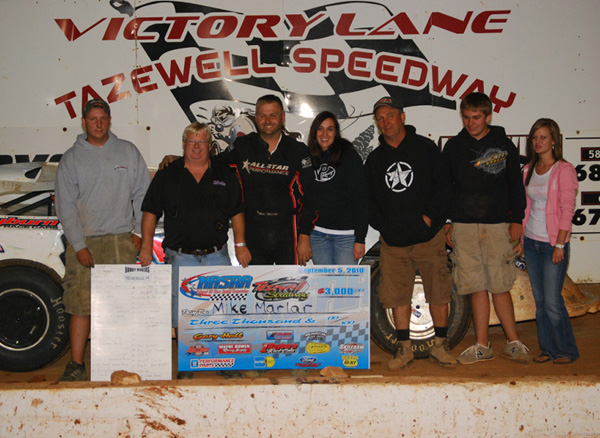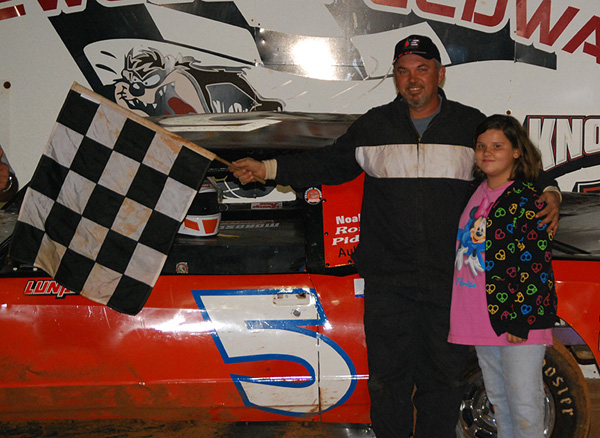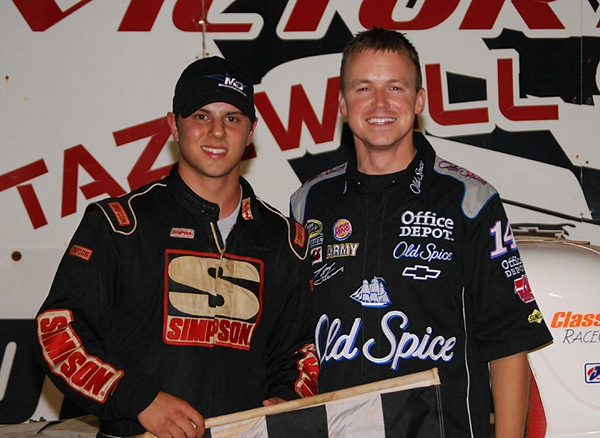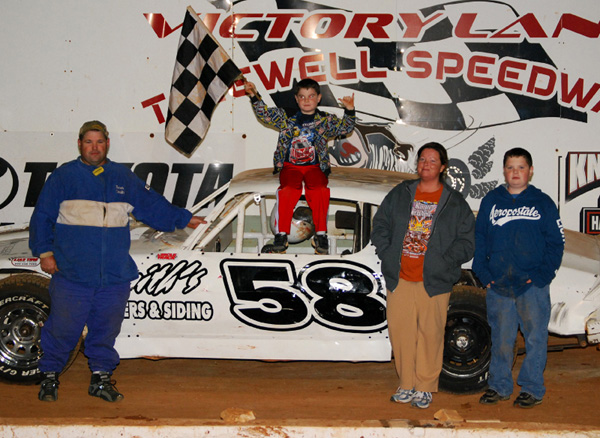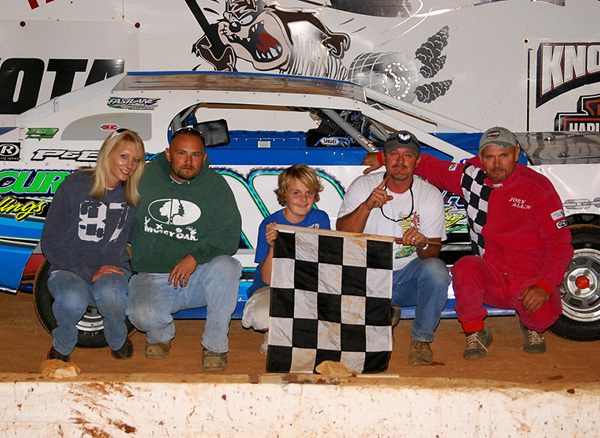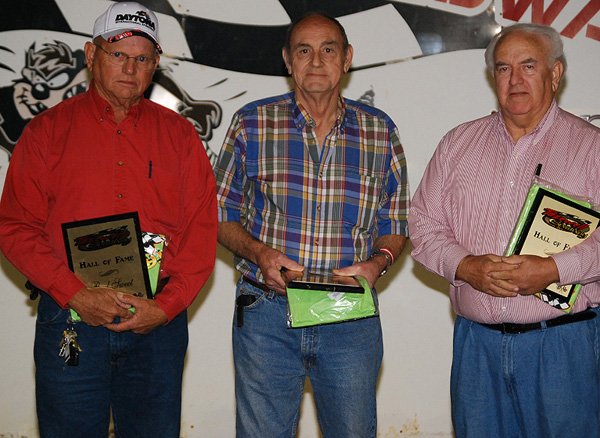 The 2010 class of the Tazewell Speedway Hall of Fame (L to R): Bud Sweet, Louis Epperson, Melvin Corum