JOE ARMES TAKES TOYOTA OF KNOXVILLE 75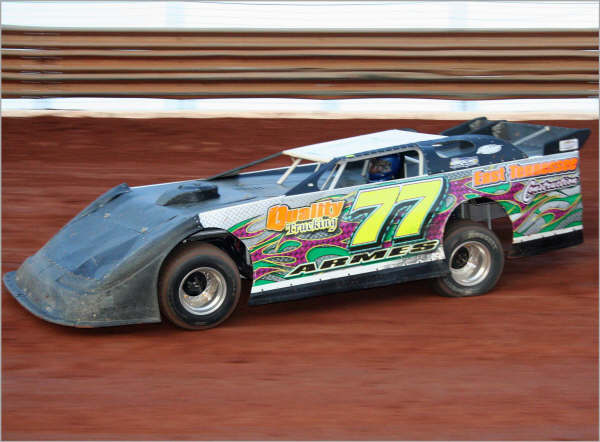 Joe Armes of Petros, TN drove the race of his life as he led wire to wire in an exciting Lucas Oil Late Model Dirt Series event on Sunday Night at Tazewell Speedway. Armes earned $10,000 for the win as he became the 16th different winner on the series tour in 2008. Rick Rogers of Knoxville, TN finished second, and Scott Bloomquist of Mooresburg, TN who placed third. Jimmy Owens of Newport, TN who started 12th on the grid came home in fourth followed by Earl Pearson Jr. of Jacksonville, FL.
Before a packed house at "The Taz" Rogers and Armes would make up the front row of the75 lap main event. Armes bolted ahead of Rogers and Scott Bloomquist, who started second and third, who were threatening to make the race a runaway in the early going.

Bloomquist challenged Rogers several times as he looked for an avenue around the 4-time Tazewell Speedway Track Champion. The top three would make their way through heavy traffic as Armes held a three-car length lead with 20 laps in the books.

Brad Hall began to come to the front, as he passed fourth-place running Earl Pearson Jr. on lap 22 and started to close on the three front running cars of Armes, Rogers and Bloomquist. Rogers and Bloomquist would go back and forth a couple of times in the race for second as Bloomquist briefly held that position on laps 25 and 26.

The race would go green for the first 42 laps of the race until a caution for the stalled car of Tommy Kerr would allow everyone to catch their breaths. On the restart Armes would still show the way with Rogers and Bloomquist still playing cat and mouse for second place.

With 50 laps completed Armes held a four-car length lead over Rogers, Bloomquist and Jimmy Owens who was now in the hunt for the lead. On the 54 lap heavy traffic would once again allow the top five runners to be on the same straightaway as Rogers and Bloomquist were all over Armes for the lead.

With 15 laps to go Armes was still high tailing it around the high banks of Tazewell but a caution with nine laps remaining would be of a benefit to him as that would clear the race track in front of him. On the final restart of the race Armes had clear sailing as he opened up a three-car length lead over Rogers would was continuously seeing Bloomquist on his rear deck lid.

In the final laps Armes just had to hit his marks and the race would be his and he did just that as he went on to score the biggest win of his racing career. "The car was just superb tonight and I have to thank Dale McDowell and all my crew, the car was really hooked up all night and this is by far is the greatest win that I have ever had and it's even better to win a Lucas Oil race with the caliber of drivers they have."

Armes' drives a GRT Monte Carlo with a Clements Racing Engine and his car is sponsored by Tennessee Valley Excavating, Southeastern Construction, Quality Trucking and East Tennessee Construction.

Completing the top ten were Brad Neat, Victor Lee, Terry Casey, Anthony White and Billy Drake.

In preliminary action Earl Pearson Jr. was the PRC Fast Time Qualifier for the 28 entries on hand with a lap of 11.452 seconds. The heat race winners were Joe Armes, Rick Rogers and Scott Bloomquist. The B-main was won by Dale McDowell.
PRC Fast Time: Earl Pearson Jr. / 11.452 seconds

Hawk Brake First Heat (10 Laps-Top 6 Advance): Joe Armes, Earl Pearson Jr., Anthony White, Shon Flanary, Billy Ogle, Dan Schlieper, Brian Smith, Bart Hartman, Wayne Chinn, Justin Rattliff - DNS

Hawk Brake Second Heat (10 Laps-Top 6 Advance): Rick Rogers, Terry Casey, Brad Neat, Scott James, Chad Ogle, Victor Lee, Dale McDowell, Steve Smith, Michael Smith

AFCO Racing Products Third Heat (10 Laps-Top 6 Advance): Scott Bloomquist, Brad Hall, Tommy Kerr, Jimmy Owens, Billy Drake, Vic Hill, Freddy Smith, Steve Casebolt, Tommy Bailey

Mason Racin' Rebel Shock Dyno First B-Main (12 Laps-Top 4 Advance): Dale McDowell, Brian Smith, Bart Hartman, Steve Casebolt, Freddy Smith, Michael Smith, Wayne Chinn, Steve Smith, Tommy Bailey - DNS, Justin Rattliff - DNS

"Toyota Knoxville 75" Feature Finish (75 Laps): 1. Joe Armes, 2. Rick Rogers, 3. Scott Bloomquist, 4. Jimmy Owens, 5. Earl Pearson Jr., 6. Brad Neat, 7. Victor Lee, 8. Terry Casey, 9. Anthony White, 10. Billy Drake, 11. Billy Ogle, 12. Dan Schlieper, 13. Bart Hartman, 14. Wayne Chinn, 15. Brian Smith, 16. Shon Flanary, 17. Steve Casebolt, 18. Brad Hall, 19. Tommy Kerr, 20. Scott James, 21. Vic Hill, 22. Chad Ogle, 23. Dale McDowell, 24. Freddy Smith


Race Statistics

Entries: 28
Caution Flags: 2
Lap Leaders: 1-75 Joe Armes
Lucas Oil Late Model Dirt Series Provisionals: Freddy Smith and Wayne Chinn
PBM/Erson Cams Hard Charger of the Race: Wayne Chinn (Started 24th and finished 14th - advanced 10 positions)
Allstar Performance Performer of the Race: Billy Drake
K&N Filters Clean Pass of the Race: Brad Hall
Quarter Master Rookie of the Race: Terry Casey
ASI Racewear Lucky 7 Award: Victor Lee
Integra Shocks Crew Chief of the Race: Gene Dover
Comp Cams Engine Builder of the Race: Clements Racing Engines
Time of the Race: 26 minutes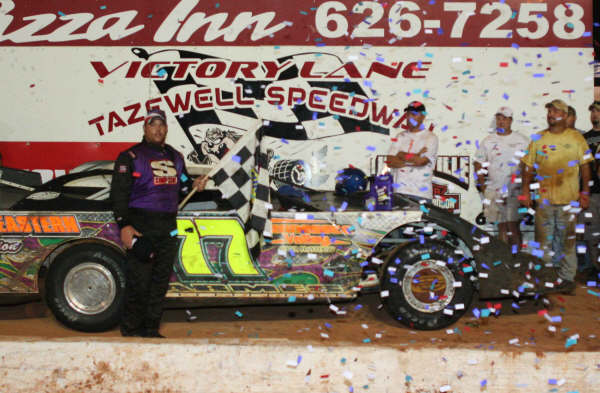 Before the B-main there was a very special presentation in Victory Lane as Blaine Frazier, Buddy Rogers and Bill Corum were announced as the first inductees into the Tazewell Speedway Hall of Fame. Frazier designed and built the track in 1965 along with his brother Bill. Throughout the years Tazewell Speedway has seen many changes and has changed ownership numerous times yet Blaine has been a tireless and constant supporter.

Buddy Rogers of Knoxville competed in the very first race at Tazewell Speedway in 1965 and won dozens of races throughout the 60's, 70's and into the 80's. His familiar number 44 was always a threat to win and the number carried on to his son Rick, a 4 time track champion at Tazewell Speedway. Buddy's hard charging style also carried on to his son. In a special moment last season Buddy's granson Stephen captured his first dirt late model win at Tazewell Speedway and 3 generations of Rogers were represented in Victory Lane. Roger's former crew chief, Pup Thomas of Hoosier Tire South was on hand to help with the induction ceremony

"Lil Bill" Corum of Corryton is a true legend in East Tennessee dirt track racing. Corum started his career in the early 60's and was a 3 time track champion at Tazewell Speedway with his first title coming in 1969. Corum dominated tracks during the 60's, 70' and 80's in his red, white and blue 21 late model and was a fan favorite no matter where he went. Bill also piloted the Hooisier Tire sponsored late model in the early 80's collecting several victories along the way. An always smiling Corum had his son Chris on hand to celebrate his induction.

Along with a Tazewell Speedway t-shirt and hat the three inductees were awarded lifetime passes to any race at Tazewell Speedway. A special plaque will also be given to the inductees.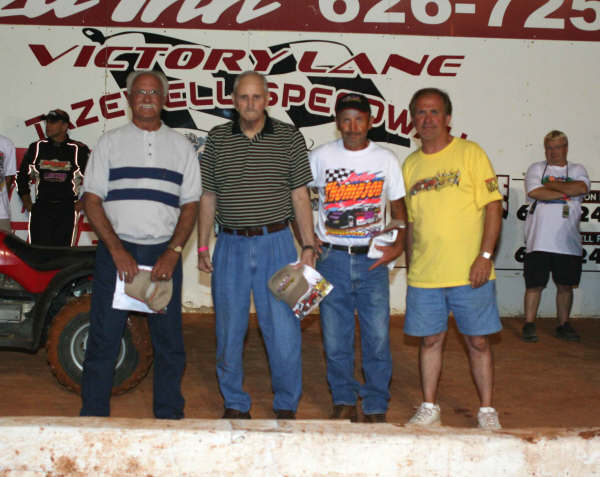 Heavy rains postponed racing Friday night yet before the rains fell, Jody Horton of Sneedville qualified his 56J on the pole for the Modified Street feature. On Sunday night Horton had to leave before the feature for work and handed the reigns over to his brother Jordan. The driver change relegated Horton car's to the rear of the field for the feature. This would put Greg Estes of Jonesville, VA alongside Allen Holt. Before the first lap could be completed Clyde Overholt would spin in turn 3. On the restart Estes, looking for his first win at Tazewell Speedway, started putting the pressure on Holt. On lap three Brad Davis had chrged his way from the rear into third. Davis did not qualify on Friday night and had to start on the tail of the field.
Estes moved his way under Holt coming out of turn 2 on lap number five and took over the lead going down the back stretch. Holt would mount a challenge in the late stages yet it was Estes picking up his first career win. His number 31 Monte Carlo is powered by a Bill Curl Racing Engine and is sponsored by Estes Brothers Construction, Powell Valley National Bank, Signs by Roach and Boones Trail Bison.

Modified Street Results
1. 31 Greg Estes
2. 88 Brad Davis
3. 17 Leonard Bray
4. 56 Tony Horton
5. 77 Chris Collingsworth
6. 15 Dustin Harville
7. 21 Dustin McMurray
8. 24 Allen Holt
9. 74 Steve Wilder
10. 56J Jordan Horton
11. 10M Bradley LLewellyn
12. 8 Andrew Loving
13. 7 Heath Alvey
14. 4 Clyde Overholt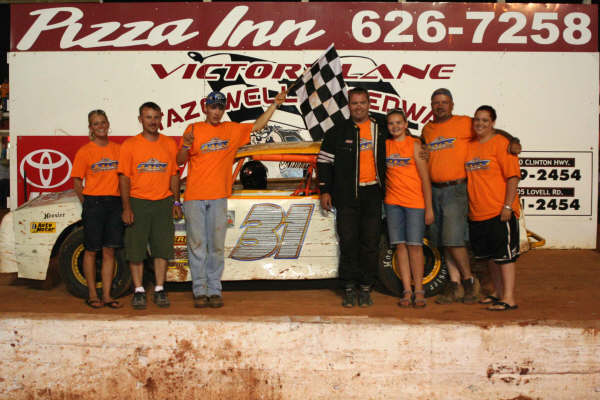 Brad Hall came into Sunday's action trying to pick up his eighth win in a row in the West Chevrolet FasTrak Crate Late Models. The $400 bounty was still in effect who could best Hall. In time trials Hall set quick time with Allen Champ sharing the front row of the feature. Before a lap could be completed, Justin Duncan and Anthony Arnwine would spin in turn 4. On the restart as the field was charging down the front stretch, slight contact between Hall and Champ would send Champ spinning to the top of turn 1. With nowhere to go, the cars of Duncan, Josh Henry and Ryan Carey would be collected and also ending the night for Champ and Duncan. The accident would bunch the field back up into double file with Mark Leach moving up into the front row. Hall distanced himself from the field leaving Leach, Bobby Mays, Josh Henry and Anthony Arnwine to battle for the remaining spots. Arnwine muscled himself into third on lap 4 and challenged Leach for second for a few laps. The caution flag would wave 4 more times including a scary ride for Jesse Helton as he was squeezed into the front stretch wall, riding on two wheels for a moment. In the end it was Hall dominating again and picking up win number 8.

West Chevrolet FasTrak Crate Late Model Results
1. 47 Brad Hall
2. 66 Mark Leach
3. 11 Anthony Arnwine
4. B00 Josh Henry
5. 5 Travis Trent
6. 117 Ryan Carey
7. 28 Jessie Helton
8. 19 Bobby Mays
9. 11C Allen Champ
10. 9 Justin Duncan

After several attempts to get the Pure Street feature underway Jordan Horton would make his way to the front leaving a 4 way battle for second between Josh Brock, Buster Cupp, Michael Daniels and Jonathan Miracle. No one could challenge Horton as The Greasy Rock Kid picked up win number 4 of the season.

Pure Street Results
1. 92H Jordan Horton
2. 17 Josh Brock
3. 50 Jonathan Miracle.
4. M35 Matt Tharp
5. 97 Bo Hall
6. 3 Jessie Hoover
7. 12 Michael Daniels
8. 94 Dustin Eldridge
9. 28 Buster Cupp
10. 16 Will Carey
11. 55 Jack England
12. 01 Luke Sharp
13. 97 Aaron Guinn
14. 22 Charles Davidson
15. 15 Jason Long
16. XXX Josh Chesney
17. 05 Chris Hickman
18. 8 Tony Eads
19. 12X Jerry Green
20. 38 Scott Gray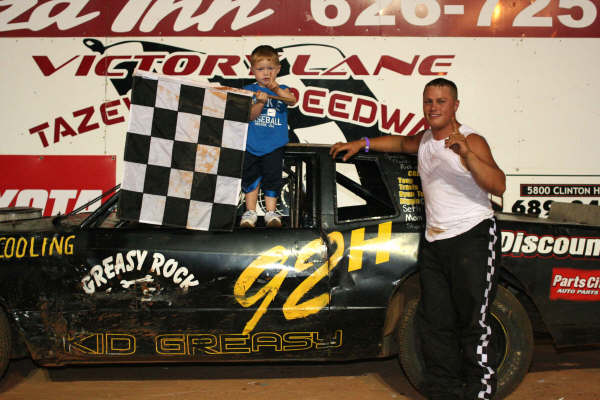 For the first time Tazewell Speedway welcomed the Front Wheel Drive Division for the All-Star Challenge paying $500 to win. Normally these drivers compete for $125 to win at other track and 15 drivers sign in for the challenge on the high banks of The Taz. Throughout the entire race there was lots of passing and even three wide action. Keith Helton of Kingsport would work his way to the front and stay there picking up the win. Helton's Saturn Coupe is sponsored by Putt-Putt Golf of Kingsport and Bristol, Estes Construction, Lady Equipment, Catch 22 and Trademark Car Company.

Toyota of Knoxville FWD All-Star Challenge Results
1. 9 Keith Helton
2. 5 Chuck McMahan
3. 0 Scott Webb
4. 3B Richard "Flipper" Ford
5. 2 Ricky Shelton
6. X20 Joseph Cross
7. 17 Josh Davis
8. 20 Spunky Brown
9. 30 Mark Hittinger
10. 3R Jeff Bean
11. D00 Josh Driscoll
12.85 Travis Weeks
13. 5L Jeff Lippere
14. 4 Wayne Lewis
15. V20 Brad Cross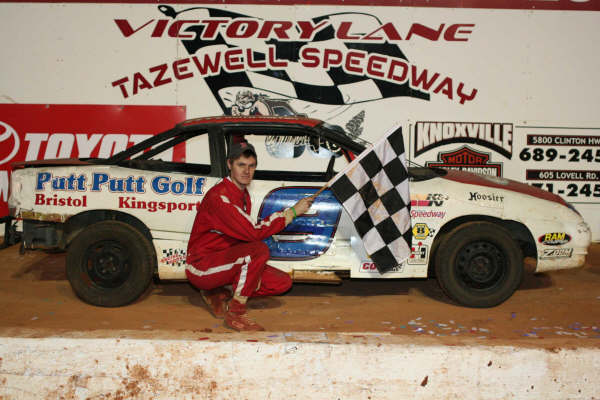 We would like to give our sincere appreciation to our wonderful fans for coming back on Sunday after Friday night's postponment. Also a huge thanks to Toyota Knoxville and the Lucas Oil late Model Dirt Series for their support and a great night of racing.