MAYS SCORED SUPER LATE MODEL WIN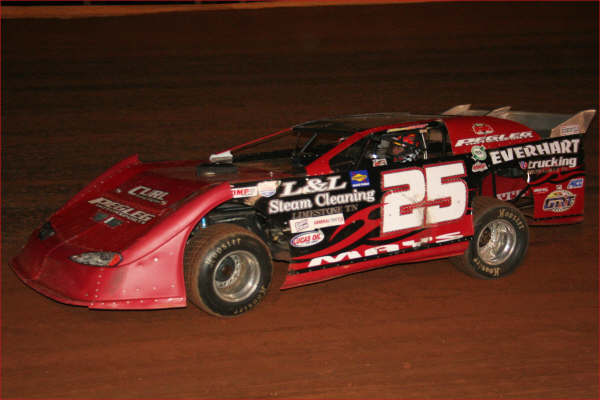 Cooler summer temperatures brought out one of the largest crowds this season as Tazewell Speedway welcomed back Super Late Models on Saturday night. Bobby Mays, driving for Peg Leg Motorsports, was looking to get the 2008 season back on track after ten straight races with mechanical problems. The Jonesborough driver would share the front row with Michael Smith of Rogersville. Taking the green, Mays took the lead with three wide racing behind him between Smith, Steve Smith, Jason Trammell, and Terry Wolfenbarger. On the second circuit, Steve Smith would take over second and start finding which groove would help him catch Mays. Smith dove low in each corner using the bottom groove and challenged Mays who was running the high line. On lap five Smith was even with Mays coming out of turn four bringing the crowd to their feet. Mays continued to lead until Marty Calloway brought the caution on lap eleven. This allowed the field to bunch up and cool their tires. On the restart Michal Smith set his sights on second as Mays extended his lead. As they laps wore down Mays would settle into the bottom groove with Steve Smith trying the high line. Smith's last chance to take over the lead came when Mays was slowed by the lap car of Richard Smith, who spun on the front stretch after making contact with Mays. Mays would hold on to the top spot to take his first victory at Tazewell Speedway in 2008. His GRT Monte Carlo is powered by a Curl Racing Engine and is sponsored by Reece Monument, Porky's Fast Bodies, Everhart Trucking and L&L Steam Cleaning.
Super Late Models
1 25 Bobby Mayes
2 3 Steve Smith
3 4 Michael Smith
4 14 Terry Wolfenbarger
5 90J Jason Trammell
6 7 Marty Calloway
7 00 Richard Smith
8 28 Jeff Wolfenbarger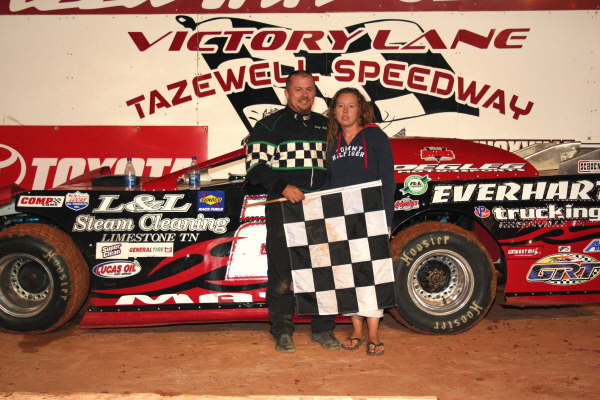 The Modified Street feature once again found Brad Davis and Allen Holt on the front row. Both racers have spilt victories among themselves this season and Davis was hoping for at least one win in the week as he lost the Road Superintendent election in Claiborne County earlier in the week. Davis would have the advantage at the start as Holt, Greg Estes, James Weaver and Leonard Bray would fight for the top five. On the second lap Estes suddenly dropped all the way to fifth. Holt would mount a challenge in the first half of the race using the middle groove yet it was Davis using the top groove to his advantage picking up his fifth victory of the season.

Modified Street
1 88 Brad Davis
2 24 Allen Holt
3 20S James Weaver
4 56 Tony Horton
5 8 Andrew Loving
6 31 Greg Estes
7 20 Scottie Atkins
8 69 Nick Barnard
9 17 Leonard Bray
10 75 Chris Long
11 01 Jonathan Poore
12 74 Steve Wilder
13 54 Bobby Reed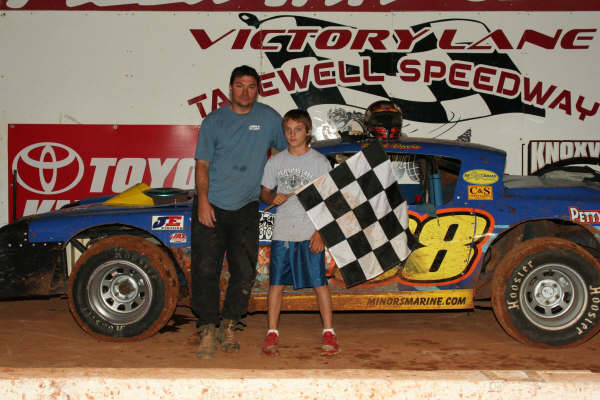 Travis Fultz was another driver would take advantage of the fast high groove as he took the Steel Head Late Model feature over Jason Trammell. Fultz and Trammell raced side by side for most of the race with Fultz maintaining the lead throughout in his Fultz Auto Body and Harrogate Collision sponsored Rayburn Dodge Charger.
Steel Head Late Model
1 T0 Travis Fultz
2 90 Jason Trammell
3 77 Steve Carr
4 8 Mike Reece
5 97 Keith Chapman
6 5 Anthony Burchett
7 15 Mike Lewis
8 7B Mike Bright
9 xxx Josh Chesney
10 24 Andy Wilder
11 3 Jesse Hoover
12 00 Kip Pearson
13 41 Ritchie Bean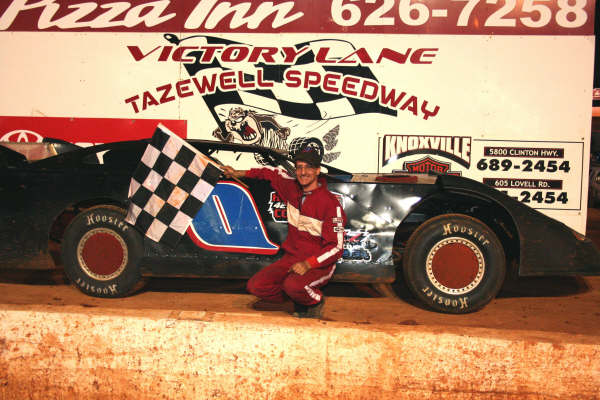 Steve Smith of Barbourville, Kentucky picked up his third win of the season over a tough Pure Street field. Aaron Guinn and Clyde Overholt started on the front row and at the drop of the green Smith quickly muscled his way into second. Smith would race door to door with Guinn on lap four with Smith taking over the lead. The top three would race nose to tail with Smith putting his Shane's Body Shop Camaro in Victory Lane.

Pure Street
1 2 Steve Smith
2 97 Aaron Guinn
3 92h jordan horton
4 97 Clyde Overholt
5 12X Jerry Green
6 15 jason long
7 12 Michael Daniels
8 94 Dustin Eldridge
9 3 Michael Boyd
10 12H Travis Helton
11 10 Charles Barnett
12 30 Dwight Creech
13 00 Jonathan Miracle
14 27 Gary Harville
15 22 Charles Davidson
16 11 Kevin Smith
17 58 Justin Smith
18 01 Luke Sharp
19 18 Junior Cody
20 D2 Gary Dobbs
21 16 Will Carey
22 8 Tony Eads
23 13 Steve Harmon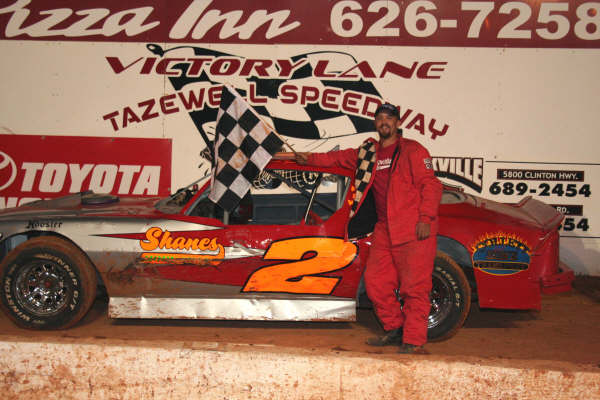 After starting sixth and taking over the lead on the second lap, it was Chuck McMahan once again taking another 4 Cylinder feature win.
4 Cylinder
1 99 Chuck McMahan
2 11 Josh Fields
3 A27 Allen Holloway
4 19 Brad Pressley
5 7 Bubby Braden
6 10 David Creech
7 20R Terry Dean
8 28 Justin James
9 K9 Cheyenne Kite
10 00 Chris Pressley