CHAMPIONSHIP NIGHT AT TAZEWELL,
VIC HILL STEALS SUPER LATE MODEL WIN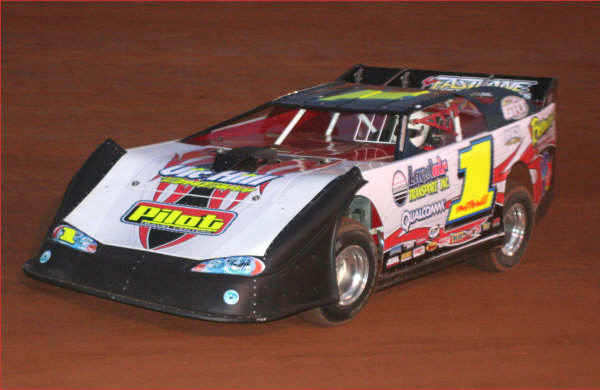 After kicking off the 43rd season of racing back in April it was time to award the division champions at Tazewell Speedway for their hard work and dedication. Saturday night was the first race since August 31st leaving drivers and fans eager to get back to racing. Super Late Models were showcased with the support divisions racing for double points
Coming into Saturday night, last year's Modified Street points champion Tony Horton held a slim 75 point lead over Allen Holt. During hot laps Horton's car would suffer a blown motor ending his night and leaving the points chase wide open. Brad Davis earned the pole alongside Chris Collinsworth and the duo held off all challengers as Davis picked up his sixth win of 2008. Taking advantage of the double points and a solid fourth place finish in the feature, Allen Holt would earn his first Modified Street points championship after racing at Tazewell Speedway for over 20 years. Holt had four wins and 8 top five finishes in 2008. Rounding out the Modified Street points chase was Dustin McMurray, Tony Horton, Andrew Loving and Chris Collinsworth. Dustin Harville was named Rookie of the Year.
Modified Street Feature Results
1.88 Brad Davis
2.77 Chris Collinsworth
3.24 Allen Holt
4.69 Nick Barnard
5.31 Greg Estes
6.15 Dustin Harville
7.21 Dustin MacMurray
8.8 Andrew Loving
9.00 Rodney Brantley
10.52 Dale Reed
11.54 Bobby Reed
12.20 Scottie Atkins
13.8 Kenny Cloud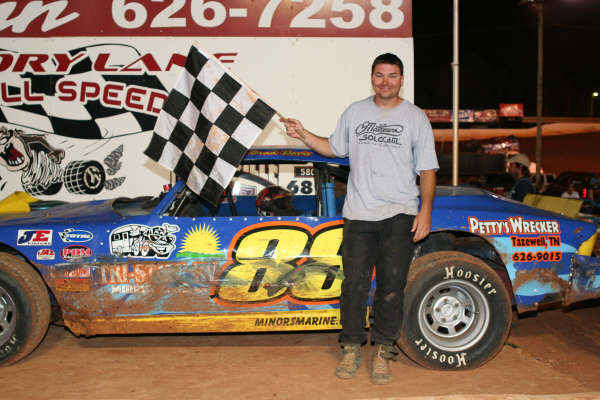 Super Late Models were once again showcased with $2000 on the line for the winner. Vic Hill of Morristown was the fastest qualifier and lined up with Billy Ogle Jr. for the feature. At the drop of the green Ogle would use his familiar low groove to take the early lead with Hill giving close chase. Ogle would extend the lead until lap twelve when his car got sideways coming out of four, leaving Hill to close the gap. On lap eighteen the leaders caught lap traffic and Hill quickly found himself on Ogle's bumper. Ogle and Hill looked synchronized as they used the bottom groove turns one and two and took the high line in three and four. Hill was slightly faster in three and four and on lap 35 he used the high groove to pull alongside Ogle. They would touch slightly at the line with Hill taking over the lead. From there it was Vic Hill putting his LandAir Transport, Miller Brothers Coal, Pilot Travel Centers sponsored GRT Monte Carlo in Victory Lane. Tazewell Speedway owner Gary Hall announced on Saturday night that Super Late Models would be back on the regular racing schedule in 2009.
Super Late Model Feature Results
1.1 Vic Hill
2.201 Billy Ogle Jr.
3.2 Anthony White
5.5 Bryan Hendrix
4.007 Roger Best
6.4 Michael Smith
7.C5 David Crabtree
8.90J Jason Trammell
9.05 Gary Blanken
10.7 Marty Calloway
11.14 Terry Wolfenbarger
12.25 Chad Ogle
13.32 Kenny Ford
14.05 Josh Chesney
15.19 Steve Rouse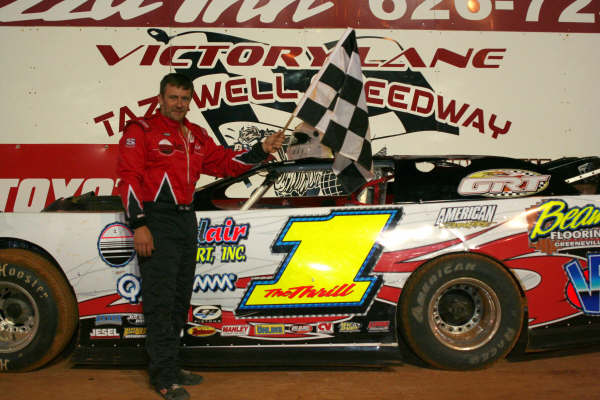 In Steel Head Late Models Travis Fultz came into the night with a 185 point lead over Jason Trammell and the battle would come right down to the end. Trammell earned the pole position and left Fultz and Mike Reece fighting for second. Fultz would slip back into second in the late stages only to run out of laps in chasing down Trammell who got win number nine in the class and the Points Championship. Finishing second through fifth in points were Travis Fultz, Keith Chapman, Andy Wilder and Josh Chesney. Anthony Burchett, who survived a life threatening crash at Tazewell Speedway in 2005, was awarded a special Most Courageous Driver Award for his efforts this season.
Steel Head Late Model Feature
1.90 Jason Trammell
2.T0 Travis Fultz
3.77 Steve Carr
4.8 Mike Reece
5.5 Anthony Burchett
6.77 Jimmy Calloway
7.97 Keith Chapman
8.15 Mike Lewis
9.7B Mike Bright
10.11 Anthony Arnwine
11.11J Jody Horton
12.xxx Josh Chesney
13.43 Matt Tharp
14.0 Freddie Brock
15.33 Phillip Nichols
16.75 Ricky Moore
17.24 Andy Wilder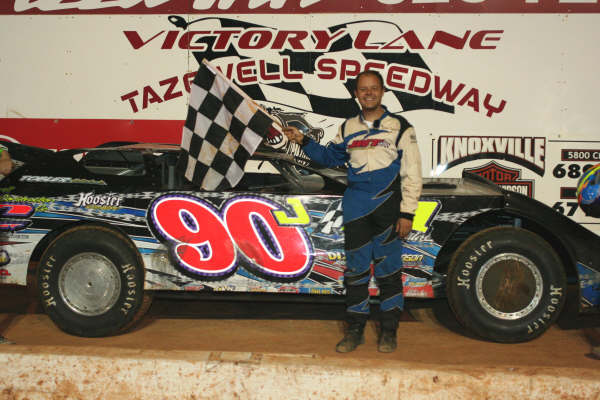 In Four Cylinder Action, Tim Ladd of Clinton won his first feature of the year at The Taz in his Milkman Signs and Designs, McNabb Roofing sponsored Toyota Corolla. Chuck McMahan was crowned the points champion with an unprecedented eleven wins in 2008. Brad Pressley, Bubby Braden, Cheyenne Kite and Josh Fields rounded out the top five in points. David Creech earned Rookie of the Year honors.
4 Cylinder Feature
1.39 Tim Ladd
2.99 Chuck McMahan
3.19 Brad Pressley
4.7 Bubby Braden
5.7UP Kurt Owens
6.10 David Creech
7.73 Christopher Nolan
8.28 Justin James
9.A00 Joey Allen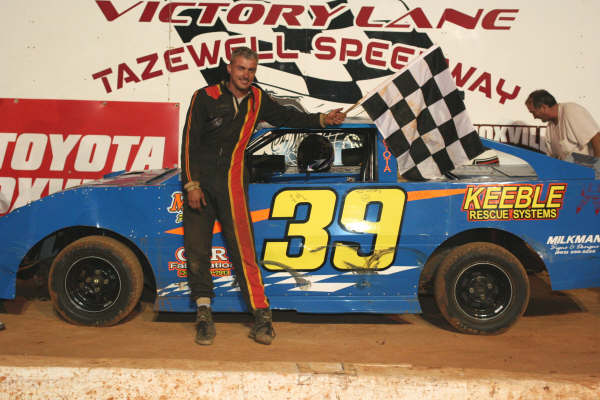 Last year's Pure Street champion Jonathan Miracle waited notched his first victory of the year in a wild race that started with the top three in points separated by only forty points. With a division leading six wins Jordan Horton garnered his first Pure Street Championship over Michael Daniels, Dustin Eldridge, Aaron Guinn, and Jason Long. Josh Brock was named Rookie of the Year.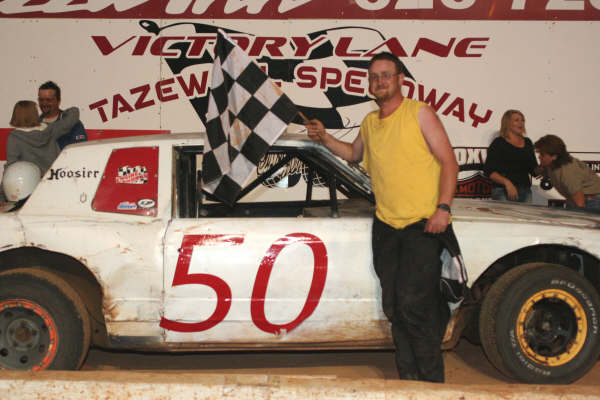 Brad Hall was awarded the FasTrak Crate Late Model championship with Jason Trammel, Josh Henry, James England, and Justin Duncan the top five.
Our next race will be on Saturday October 4th with Super Late Models racing for $2000 to win. Modified Street, Pure Street and 4 Cylinders will also be in action. For more info call 423.626.2222.